Hillary Clinton doesn't care who she mows down while swiping at that glass ceiling!
Are women really ready to settle on Hillary Clinton representing the first woman in the White House if she somehow became the first female president?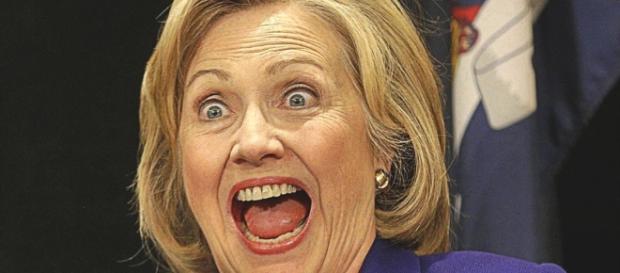 Hillary Clinton has taken on the Glass Ceiling concept as part of her motto, even appearing through the graphics of glass shattering when speaking to the Democratic Convention via a giant screen. She did this when she was officially named the Democratic nominee.
Today we learn that Hillary is planning an even bigger and better reference to glass for her election night party when she believes she is going to smash the glass ceiling that's the toughest of them all! The Javits Center in New York City is the place her big election night shindig will be held, according to ABC News.
Representing women?
Hillary and her camp more than likely booked this place a while ago before she became knee-deep in an email investigation that is dropping her in the polls.
Many are excited about Hillary's prospects of becoming the first woman president and some think this is a big step forward for women.
Others fear that if Hillary gets into office she just might ruin it for the rest of the women out there with their hearts set on a presidential bid someday. There are some women who would actually like the first woman president to be a good example of her gender, which includes having honesty, strength and someone who is as far from being selfish as one could get.
Please, a better example
If Hillary does happen to break her final glass ceiling she won't sit in the White House with a record of honesty. There have been too many incidences in the past to show that won't happen with the most recent email debacle as proof of that. The disappearing emails don't sit well for honesty, but some women believe this is not a problem.
Honesty and strength
What about strength, not her physical strength, but her strength as a woman relying on herself to do the job at hand. When the going got tough on the campaign trail, she referred back to Bill Clinton's presidential record at getting things accomplished. She used this as an example because she "was there."
Some women don't want a woman president who is going to ride into the White House on her husband's coattails, instead they want her there on her own merits. The first woman to step into the White House as the president can't have a selfish bone in their body when it comes to their agenda for running for office. That ship has sailed with Hillary.
Hillary's deeds
The history of Hillary's deeds points to the Clinton Foundation financed on a pay to play basis, but she denies this. So far she has benefited from less than stellar deeds done by Huma Abedin, Debbie Wasserman Shultz and Donna Brazile. Each one of these women have taken the fall and possibly said good-bye to their careers after some inappropriate deeds done to help push Hillary into the White House.
It was Hillary's emails that actually revealed these somewhat underhanded deeds being done! 
Hillary has benefited from these deeds, like how she was given the questions to debates beforehand from Donna Brazile. Instead of Hillary stepping up and telling the folks running the debate she had been given access to the questions, she didn't. She answered those questions at the debate with full knowledge those questions were coming. Brazile was caught and CNN announced they've severed all ties with her as their political analyst.
Huma's emails were on her husband's laptop, which could happen in any family. They are more than likely copies of the emails Hillary destroyed, which is why the FBI investigation opened back up. The emails originated from Hillary, yet Huma is off the campaign trail and basically in hiding at home from the press. 
Debbie Wasserman-Shultz along with others in the Democratic party pushed Hillary ahead in the Democratic race, favoring her over Bernie Sanders. She was caught and now gone as the chairperson, yet Hillary, who did win over Bernie, possibly because of Wasserman-Shultz's efforts, still remains. In all three cases these women took the fall and Hillary remains looking for votes. No, this is not how the first woman president should behave.