Film Review: 'Dog Eat Dog' bites the dust
The film starring Nicolas Cage and directed by Paul Schrader has a bark worse than its bite.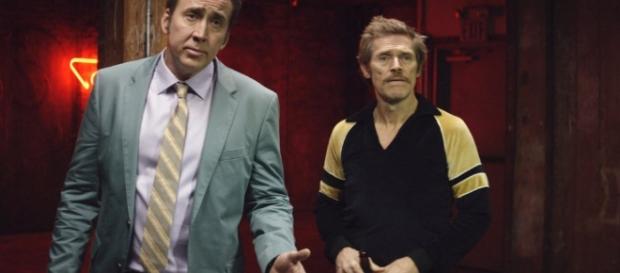 'Dog Eat Dog' barks up the wrong tree
"##Dog Eat Dog", (RLJ Entertainment) the new sick, twisted dark comedy and crime thriller directed by ##Paul Schrader, starring #Nicolas Cage, Willem Dafoe and Christopher Matthew Cook is more disturbing than humorous. It's out now on Amazon Video, VOD and was in theaters in limited release. The film scored 38% on Rotten Tomatoes. It is based on the novel written by ex-con Edward Bunker of the same title. The film premiered at the Cannes Film Festival this past summer.
Director Paul Schrader (who makes a cameo appearance in the film), wanted to direct another film with Nicolas Cage because his disastrous movie, "Dying of the Light" also starring Cage was taken from him without his consent and got pulled apart.
We reached out to Schrader but he declined to comment.
The plot focuses on three criminals, Troy, (#Nicolas Cage) Mad Dog (Willem Dafoe) and Diesel (Christopher Matthew Cook) who are all best pals and continually find themselves on the wrong side of the law. In one scene, the three men meet in a VIP lounge and strip club full of hookers for Troy's 'welcome home' party and Troy hits on most of the prostitutes. They plot a kidnapping gone awry and are on the run to try to escape the law. Their mob boss, Grecco the Greek (Paul Schrader) assigns them their last job before retirement worth a large sum of money. Troy, the straight guy is a man of wealth and privilege. He thinks he's a movie star like 'Humphrey Bogart' and Nic tries to pull off his best impression of Bogart in the film which was all improvised and not in the original script.
He 'doesn't give a damn' what others think of him. He's the best dressed out of the three gangsters.
All of the actors pull it off, but Nic is the most surprising. He's very unpredictable in this film. There's only one scene in the film that I thought was amusing. It's when Troy walks in the room with a huge stash of cash and they party with a condiment fight bare chested! I thought Nicolas Cage looked rather sexy with his shirt off, sprayed with mustard and ketchup!
The film is more disturbing than humorous
Parts of the film were rather disturbing. It isn't that funny. I don't see how they could call it a dark comedy. It's not for everyone, only those with a sick and twisted sense of humor! There's this one scene when Mad Dog suddenly kills his girlfriend, Sheila and her daughter over a fight using her computer with porn on it. The editing of the film was very unusual, like in the beginning of it when they show Mad Dog sitting on the couch with the phone ringing, and then there's these odd visual effects where he's using drugs in the bathroom.
Overall, the film's bark is worse than its bite. I rate this film a D -.