Don't forget the longer sustained protest at Standing Rock
The importance of covering civil disobedience against the Dakota Access Pipeline, and connections with anti-Trump protests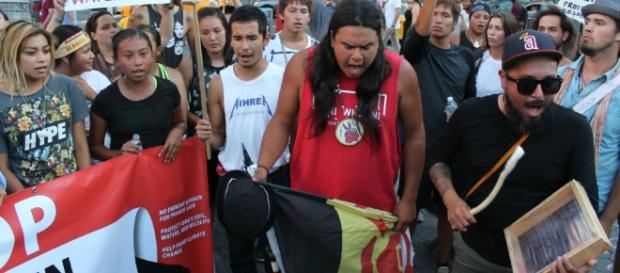 In the days following the election of Donald Trump, news outlets readily covered the numerous protests that occurred across major cities throughout the U.S. Considering their overall scope, it made sense to do so, given that these actions reflected profound concerns about the future of the country. Certainly, the backstories behind his picks for cabinet posts validate the reasons behind the demonstrations, which highlighted an amalgamation of Trump's campaign talking points, behaviors, and attitudes. On the other hand, the mainstream media has given minimal coverage to the ongoing act of civil disobedience at standing rock Sioux Reservation against Energy Transfer Partners' construction of the Dakota Access Pipeline (DAPL).
Background and individual stories
Since the early part of April, the protest against the DAPL has grown and sustained itself. Activists cite such reasons as the potential environmental hazard posed by the pipeline's proximity to drinking water, the destruction of sacred land, and the 1851 Treaty of Fort Laramie. For those who follow such alternative outlets as The Young Turks and Mother Jones, a number of individual stories have emerged from Standing Rock. Some relate to the federal government's apparent ambivalence, ranging from Barack Obama's support of the right to peaceful protest, to the U.S. Army Corps of Engineers' orders to take actions against protesters. Related to the latter, other stories cover the outbursts of violent suppression by both local law enforcement and the North Dakota National Guard against demonstrators.
Just last night, police used tear gas and a water cannon against demonstrators trying to get to sacred land.
Giving perspective and building solidarity
Demonstrations against Trump have been large, numerous in quantity, and public enough to merit media attention. On the other hand, even if they might deal with chilly temperatures as winter approaches, participants circulate around large metropolitan areas, typically have no confrontations with law enforcement, and can easily go home after a few hours. Of course, this isn't to devalue the value of such protests. Rather, it illustrates the contrast with the challenges anti-DAPL protesters (also referred to as water protectors) have dealt with for a longer of period of time, relative to the kinds of mainstream media coverage it has received. That said, one can readily find similarities in the concerns expressed by the direct action at Standing Rock and protests against an impending Trump presidency, including a moneyed sense of entitlement for short-term gain, a lack of concern for greater well-being, and the formulation of policies and actions that reflect systemic racism. For these reasons, and in the run-up to Trump's inauguration, protesters focusing primarily on issues related to Trump can show solidarity with the water protectors at Standing Rock. Especially if the mainstream media still doesn't catch on to the importance of the latter's actions.