Did Trump invite Cruz or is Ted vying for Attorney General with tail between his legs?
Is Trump looking at Cruz for the Attorney General spot or did Ted Cruz make a trip of self-promotion to Trump Tower asking for a position?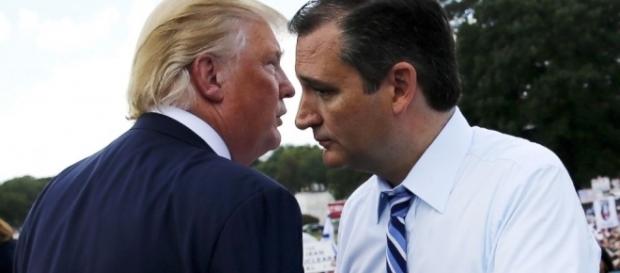 To say that Donald Trump and Ted Cruz were like oil and water during the Republican debates would be an understatement. It got to the point that when the two were seen at the same venue you'd find yourself cringing waiting for what came next. Cruz and Trump battled about everything from personality to family members, but they didn't spend too much time on politics.
Oil and water finally mixing?
#Ted Cruz was seen walking into Trump Towers yesterday along with other big names in politics who came and went through the tower doors all day as #Donald Trump sets up his administration. It is rumored Cruz is up for #Attorney General and this news has managed to drop some jaws across the nation.
Complicated relationship
The New York Magazine asks if Trump is about to create a "Lyin Attorney General Ted Cruz.?" Cruz's camp downplayed the visit when asked for a comment on the Cruz and Trump meeting Tuesday. CNN calls this meeting a possible "complicated post-election relationship." In fact they thought it would be one of the most complicated in Washington.
Common goal
There's no sugar coating the way Trump and Cruz treated each other while campaigning; it was horrible. With that said there's not many in Washington who are as qualified as Cruz for the Attorney General job. Cruz is a Constitution buff and one who takes the Constitution of the United States very seriously.
If Trump were to offer this position to Cruz and if Cruz were to accept it, this will go a long way at softening the horrendous actions of these two men a few months ago.
It would prove that their hearts are in the right place and signify that they are working toward the common goal of getting this country up and running to par.
Trump sticks to his word
If Trump offers this post to Cruz it shows that Trump is sticking to his word and seeking out the best possible people to help him run this country. If Cruz were to accept, it shows that this country's future well being overrides any ill feelings about the president elect.
Step up political ladder for Cruz?
Cruz is a young man as far as politics go and with him in the position of Attorney General, he could make a stellar name for himself in politics and flush out the cloud he is under for his previous mud-slinging. Ted Cruz as the Attorney General would be a win-win situation for both men, but better yet, the country.
Update: Fox News reports later in the morning Wednesday that they were told to take Ted Cruz's visit to Trump Towers with a "grain of salt." Mike Huckabee reports that he would be really surprised to see Trump appoint Cruz to the Attorney General job. According to Fox, there is a lot of "self-promotion" going on during this time with the new administration falling into place.
Not that they are saying this is the case with Cruz. It is possible Trump didn't summon Cruz to offer him a position and it's possible that Trump never summoned Cruz at all. Cruz could have easily asked for this meeting.