Chinese navy warships at Gwadar port in Pakistan cause for alarm for USA
The port built by China is part of $46 billion economic corridor linking to Arabian sea, and gives China great leverage as a power in Indian Ocean.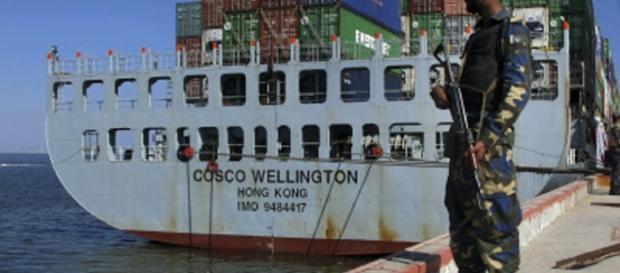 The Gwadar port in the restive province of Balochistan is ready for operations. It links the Chinese Muslim majority state of Sinkiang through #Pakistan-occupied Kashmir to the port of Gwadar. The strategic significance of this port is immense, as it gives #china an entry to the warm waters of the Indian Ocean. As per reports emanating from Pakistan, Chinese navy ships will be positioned at Gwadar along with the Pakistan navy warships to guard the port and keep the sea lanes free from enemy attacks. The purpose is to counter the formidable Indian navy and the US navy base at Diego Garcia south of Gwadar. The Chinese navy will now have a blue water presence in the Indian Ocean.
The news was reported by CNN.
Chinese ships at Gwadar
China and Pakistan are all-weather friends and have a strategic relationship, and for both the common enemy is #India. Also a worry to China is the blossoming Indo-American strategic partnership. America has a significant presence in the Persian gulf and the Arabian Sea. If the Chinese navy positions warships at Gwadar the threat to the US and Indian navy will be significantly increased. The road and port have been built by the Chinese in a record time of 2 years. The economic corridor from Sinkiang to Gawadar will greatly help China. Pakistan's only gain is the positioning of Chinese warships at Gwadar as a counterpoise to the Indian navy. Both India and the US cannot be happy with this development and will now have to alter their strategic plans.
Strategic scenario
There is further cause for worry, as the Russian security chief has visited the Gwadar port to assess if it could be used by Russia. The Russians have expressed interest in the Pak-China economic corridor and use of the port at Gwadar. Maybe it is the beginning of a Pak-China- Russia axis and will increase the threat to US interests in the region. Russian warships at a later stage could also use the Gwadar port. Such a development could change the entire strategic scenario in the Indian Ocean and Arabian sea.
Last word
America and India will be constrained with the reported coming to Gwadar of Chinese warships. The global scenario will undergo a change and one will wonder what are the plans of Donald Trump. He has not spoken on this issue, but very soon he will have to face the reality.