Child with cerebral palsy kicked out of Trump rally
Young J.J. Holmes experienced first-hand the anger and wrath of Trump and his supporters.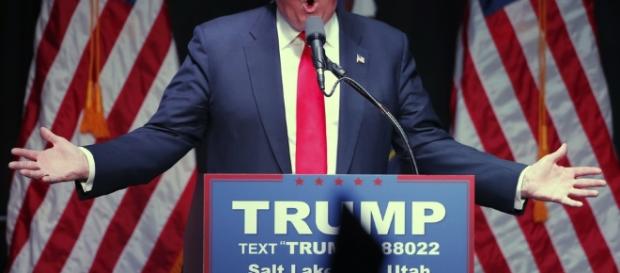 J. J. Holmes is a 12-year-old boy living with cerebral palsy. He recently pleaded with his mother to drive him to a Trump rally held in Tampa, Florida to exercise his right to protest. The young boy personally took issue with the Republican nominee's treatment and disrespect for people with disabilities. Holmes' mother Alison agreed to taking the trip but not long after they arrived and started chanting Hillary Clinton's name, #Donald Trump kept ordering, "Get them out." A group of Trump supporters began chanting "USA," kicked at the child's wheelchair and a few of them pushed it.
Alison told The Washington Post that they were eventually put out by security.
After being cruelly treated, Alison and her son headed to Kissimmee to listen to President Barack Obama deliver a campaign speech in support of Hillary Clinton. J.J. Holmes considers the president and former first lady to be modern day heroes. Kimberly DeFalco, a woman who witnessed the mean-spirited incident at the Trump rally, took to Facebook seeking help in arranging a meeting between J.J. and President Obama. DeFalco wrote that it would be life-changing for J.J. plus it would encourage those who thrive through life despite living with disabilities.
Pleased to meet you, Mr. President
Well, young J.J. did get his chance to see and meet President Obama. During his speech, the commander-in-chief reminded Floridians of the importance of getting out to vote, stating that it was about the character of the country and what we stand for.
Afterward, Obama took the time to shake J. J. Holmes' hand.
Hate begets hate
As Alison continued relaying their Trump rally experience to The Washington Post, her son interjected with the aid of a computer vocalization device: "I hate Donald Trump. I hate Donald Trump." J. J. Holmes should not have been left with that experience or impression. Even kids know you should not reward a child for bad behavior and if a child has sense enough to understand this incubation of divisiveness and its effects, why can't adults? Or do we care? #News #Election 2016