Channeling Tarzan, Little Lord Fauntleroy and the Holy Family
A year-long exhibit of children's portraits has opened at the Museo del Prado entitled "Children Unveiled" that is anything but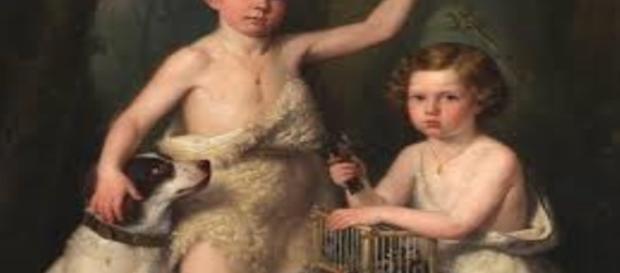 Maybe it's the way a display of children's portraits from the Spanish Romantic era is being hyped at the Museo del Prado that explains why so many of the exhibit examples come off as silly. Billed as "Childhood Unveiled," you expect to see images of innocence, not kids looking like small-size adults acting out roles that adults put upon them. Exhibit notes from the museum state that one of the points of the presentation is to show off a new acquisition by Antonio Maria Esquivel. If this painting is meant to portray those of a tender age, it's nothing to brag about.
Calling Tarzan
Esquivel's portraits picture two boys - Raimundo Roberto and Fernando José - children of HRH the Infanta Josefa Fernanda de Borbón – donned only in fur pelts, as if they were a couple of Arcadian shepherds in the Great Outdoors bent on setting free a caged bird held by one of the boys.
And in case you miss the point that childhood is a state close to nature and freedom, letters spelling out the word "free" marks the collar of their dog. Oh, well, at least the boys aren't starchily dressed up in their company best, which is more than can be said about another exhibit example in this show.
Spit and polish
Behold a portrait of Federico Florez y Marquez by Madrazo y Kuntz. While set outdoors, the artist pictured the boy dolled up in a military-looking uniform standing at stiff attention. Granted, these paintings were made in an era when patronage demanded such portraits. One can't argue with history. But one can object to the way the show is billed. A better title than "Childhood Unveiled" would be Parents' Head Trip Unveiled.
Little Lord Fauntleroy
This is not to say that the English painters portrayed children any better.
Sir Joshua Reynolds comes to mind. When he wasn't giving kids fit-for-royalty airs, he went for making them cute, as in "Portrait of Miss Jane Bowles" cuddling her dog, an effort that ended up with a lot of round pink cheeks and blond curls. Reynolds probably should get points for trying for unaffected, unself-conscious imagery, but in the end, his portraits of children are the stuff of Hallmark greeting cards.
Shades of Botticelli
The French didn't do much better with their portraits of children. Elizabeth-Marie Vigee Le Brun, who Marie Antoinette favored for likenesses of her brood, endowed them with neo-classical airs. Even in the artist's portrait of her own child, Julie Le Brun, she described her as as an allegory of spring, as Primavera, the mythological goddess of flowers. And while Le Brun's famed work "Artist with Her Daughter" looks to be the picture of motherhood, it's composed like some Renaissance portrait of the Holy Family. Whether the likenesses of children are by the Spanish, the English or the French, there's not too much to admire. #Buzz #Art