Barron Trump's 'difficult' time with campaign fuels autism questions
Melania and Barron Trump not moving into the White House on the heels of a 'difficult' campaign period for the 10-year-old.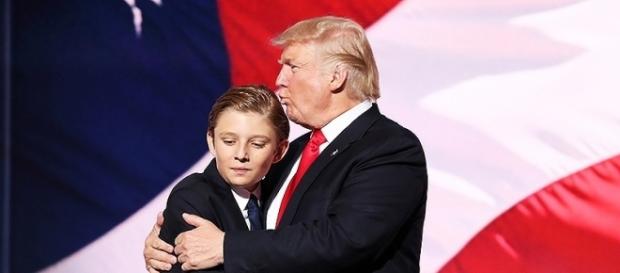 From the very first day that Donald Trump announced his run for president his life became an open book with the media probing not only into his past life, but his wife as well. Now it is #Barron Trump the media is centered on after what some are referring to as awkward behavior seen during election night while standing on the stage with his dad. While the child is only 10 and was more than likely wiped out from a long ordeal that election day tends to be, there were some facial movements and stares that brought on questions about Barron possibly being autistic.
Autism questions
If Baron is autistic, the Trumps are in between a rock and a hard place when it comes to making that information public.
The campaign and all the attention that centered on Barron has proved difficult for the young boy, according to the New York Post. Because the campaign period was so overwhelming for Barron, Melania has decided not to move into the White House and stay at home in Trump Tower with Barron when Donald moves in January. She wants him to be able to continue on at the same school he is enrolled in today.
Not necessary to divulge
It wouldn't be fair to Barron for the Trump's to announce any health conditions he may or may not have. While #Autism is quite prevalent in the nation today, most kids who have this diagnosis aren't thrust into the public spotlight. If Barron is already finding all the chaos involved in being the young son of a president overwhelming, it would be understandable that if he is diagnosed with autism, his parents might opt to keep that under wraps.
Barron thrust into limelight
As a parent you can only imagine that you would do just about anything to keep your child from being flanked by more attention than he is already dealing with today. According to the Morning Ledger, Donald Trump is someone who believes that autism is caused by childhood vaccinations. Back in 2014 Donald Trump tweeted about changes due to vaccinations and autism, which can be seen below.
Healthy young child goes to doctor, gets pumped with massive shot of many vaccines, doesn't feel good and changes - AUTISM. Many such cases!

— Donald J. Trump (@realDonaldTrump) March 28, 2014
I'm not against vaccinations for your children, I'm against them in 1 massive dose.Spread them out over a period of time & autism will drop!

— Donald J. Trump (@realDonaldTrump) September 4, 2014
Trump very vocal over Autism and vaccines
At one point Trump talked about a two-year-old child who was diagnosed with autism after being vaccinated. Reports say that Trump was talking about Barron in that story, according to the Morning Ledger.
Donald Trump is giving up running his business and now his wife and son won't be moving to Washington DC with him, so he is giving up a lot to run this nation. Because of all the sacrifices this family has already made, the nation should respect their privacy around their young son.
Melania sets media straight
Whether or not Barron is autistic, this probably should be left to Donald and Melania to address. Melania has come out to say in the past that Barron is a healthy normal boy when the autism inquiries first came to light. Melania recently said that he is "a builder" who likes to build things like his dad, he also builds helicopters.
She also said her son is intelligent and bilingual. His proud mom said that not only is he proficient in English, he can also speak her native language of Slovenian. The 10-year-old is in the fourth grade at the very prestigious Columbia Grammar and Preparatory School in Manhattan, according to the New York Post.
Could it be the kid was just tired?
While Barron appeared rather restless and at time a bit distant when on the stage with his dad on election night, people might have been seeing nothing more than a tired child. He's 10, which is very young to have to endure all the hoopla that comes with politics! #Barron Trump not moving into White House