Barron and Melania bear the brunt of ire seen over Trump presidency today?
As a mom, Melania has to be heartbroken to hear that some of Barron's classmates' parents are outraged he's staying in their school.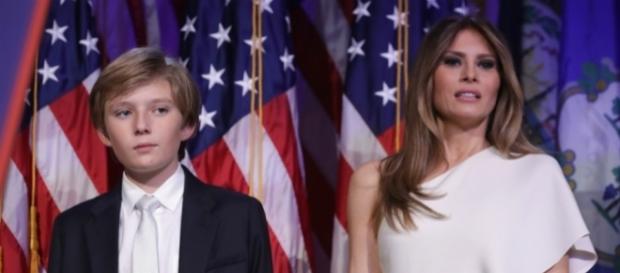 When #Melania Trump first got behind her husband #Donald Trump in his quest for the presidency, did she realize what this would entail and what she would face months down the road? Today she is the center of gossip in the headlines and her son #Barron Trump is being discussed across the globe.
Media target
The first round of disturbing accusations came months ago when several news outlets suggested that Melania had been an "escort" in the 1990s. According to The Wrap back in August this was false reporting. This disgusting rumor got Donald Trump's gander up enough to threaten lawsuits. The apologies cropped up once news outlets received a letter putting them on notice of a lawsuit.
Divorce
The Inquisitr today is reporting on "rumors" that Mr. and Mrs. Trump are on the verge of divorce. Some speculate it is marital problems behind Melania refusing to move into the White House. The lack of participation by Melania during her husband's campaign is also thought to be evidence of marital discord.
The website points out that Bill Clinton was very active in Hillary's campaign and how active Michelle Obama was when Barack was vying for the presidency. When it came to Trump he counted on his adult children to fill that family gap while Melania was absent.
Barron
Melania's pride and joy is her son Barron, who she wants to shelter from the chaos that goes along with being thrust into the limelight. When it was revealed that Melania and Barron would not move to Washington so that Barron can continue on at his school, some of the student's parents became outraged.
They now believe their children are at risk.
Unwelcoming
They feel Barron's presence is a risk to their own children sparked by fears of violent backlash over Trump's presidency. They are not happy over the discombobulation of the massive Secret Service presence as they sweep the school and everyone in it. When Melania Trump showed up for a recent parent-teacher conference night, the parents witnessed the disruption for themselves. The one elevator in the school was roped off and designated for Melania's use only, causing the other parents to use the stairs.
The security around Trump Tower is causing major traffic jams and businesses in the area are losing out on customers due to access to the area being restrictive. There's not only aggravation coming from Barron's classmates' parents, but also people who live and work in Manhattan around the area of Trump Tower. It is not that the mother-son duo are disliked, it's just that their presence has caused major disruption in the day to day activities for many people today.
Rosie O'Donnell
The question of Barron being autistic recently circulated in the media and Rosie O'Donnell, an arch enemy of Donald Trump, also got into the act. O'Donnell suggested that if Barron is in fact autistic that this is a great opportunity for Trump to draw awareness to autism. Folks became furious with her and they lambasted Rosie, conveying that it wasn't her place to draw attention to the boy with her intrusive tweets.
Hit in Japan
Japan sees Barron Trump as a superstar after becoming infatuated with his "sleepy" behaviors on election night. A famous Japanese artist has created a comic-book like image of Barron with tears streaming down his face after being thrown into the middle of the chaos they see around the elections in America. The artist captioned the cartoon-like painting of him a "beautiful boy" who has an "annoying" and "loud" father.
Not all that glimmers is gold!
Melania and Barron have been plucked out of their quiet life in Trump Tower and subjected to some disturbing headlines. Even fashion designers are fighting over not dressing Melania because she is Donald's wife. Barron is staying in Manhattan to go to a school where he's not welcomed by some, divorce rumors swirl and Barron's behaviors have become headlines with questions about him being autistic. For sure, Melania didn't sign up for this!