AP ranks Washington over Michigan in latest poll
Say it ain't so: football writers dis Wolverines after great game, tough loss.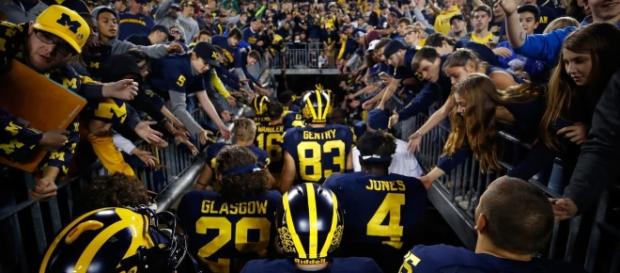 The college #Football writers who get a vote in the weekly AP polling must be on drugs. How else can you explain ranking the University of Washington, which has 0 quality wins, over Michigan? The previously third-ranked Big Blue lost a double overtime thriller at No. 2 Ohio State. After converting a controversial first down on the previous play, Buckeye Curtis Samuel swept in for a 15-yard touchdown to close the game at 30-27. OSU is in the College Football Playoff.
The Wolverines fell to 10-2 in the tough Big 10. Washington (11-1) plays cream puffs in the PAC 12. The Big 10 has 4 teams in AP's top 10. The PAC 12 has the Huskies now at No.
3 and Colorado at No. 9. For some reason, AP writers are pushing USC hard. Yes, the same Trojans who lost to Stanford and Utah earlier in the season. Wow! Lucky for them, the Huskies haven't played the Buffaloes yet. The poor play of the conference and the schedule are not Washington's problem, but there is no way the team should be rewarded for beating pretenders.
CFP could save NCAA
The College Football Playoff Committee can fix the wrongs of the West Coast-biased football writers. As the committee considers strength of schedule, head-to-head competition, championships won and outcomes of common opponents, Washington doesn't stand a chance in the playoff picture. The only common opponent Michigan and Washington have is Rutgers. Washington routed the Scarlet Knights 48-13 at home in the season opener.
Big Blue clobbered Rutgers 78-0 in New Jersey. Colorado and Washington should meet for the PAC 12 title. Michigan beat the Buffaloes 45-28 in September.
Undefeated Alabama deserves the top ranking of the CFP committee. The Tide is not just 12-0, with a SEC title game against Florida pending, but Alabama has beaten USC and six conference foes that were listed among the best in the country at some point this season. While the Tigers didn't always look good doing it, Clemson also beat the best teams in the East and deserve a playoff slot.
The latest CFP announcement will not come out until Tuesday, but don't be surprised if it looks like this: No. 1 Alabama, No. 2 Ohio State, No. 3 Michigan and No. 4 Clemson. #NCAA