A monkey in China and a fish in India chose Donald as the winner
Animals may have a sixth sense as after a Monkey (Geda) in China a fish in Chennai named Chanakya correctly chose Donald Trump as the winner.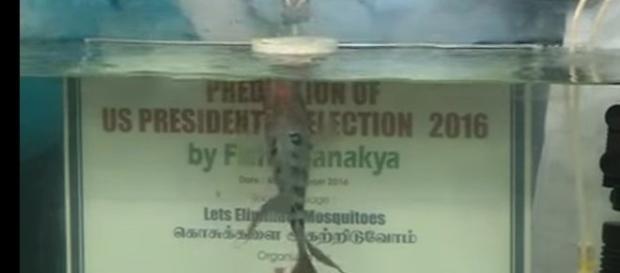 #Donald Trump has won. He was supposed to be the bad loser and Hillary, the knight in shining armour the winner. Almost all the Gallup polls predicted a Hillary win and all over the world people were glued to their TV sets to watch the results. But many were dismayed, and the press and Media flabbergasted when the screen began to show the electoral votes piling up for Donald. It was a human failing and Donald pulled off one of the greatest upsets in the history of an election.
The monkey forecast
A few days before the polls a monkey in China chose Donald Trump as the winner. Two cardboard cutouts were placed at some distance from each other and the monkey named Geda repeatedly kissed the cutout of Donald.
This was interpreted to mean that the monkey has chosen Donald as the winner.
Chanakya the fish predicts
Close on the heels of the selection by a monkey, a fish in the Indian southern city of Chennai is also reported to have forecast the victory of Donald. The fish is looked after by the Community Welfare Organization office of an NGO. It is given the name Chanakya after the legendary advisor of the Indian king warrior Chandragupta.
The fish was fed by lowering two sticks with fish food and having small placards with the names of Hillary and Donald. The exercise was repeated a few times and the fish chose Donald Trump. It ate the fish food lowered with the name of Donald Trump. This was an uncanny forecast, and the same fish had earlier predicted the winner of the world cup.
Last word
The forecast by the monkey and the fish was not given any importance but now after Donald has romped home interest is aroused at these predictions.
These animal forecasts are not infallible and sometimes wrong predictions are also given but statistically if there is a success rate of over 75% it certainly merits consideration. One can add this prediction to the forecast of Professor Allan Lichtman and see that all of them went against the expected predictions by human beings as represented by the press and the polls.The win by Donald Trump is a surprise, but one wonders whether these animals had a sixth sense or it was all a fluke. #Election 2016