What the Dallas Cowboys should do with the Tony Romo and Dak Prescott situation
With Tony Romo expected back in a few weeks, the Dallas Cowboys will have a decision to make.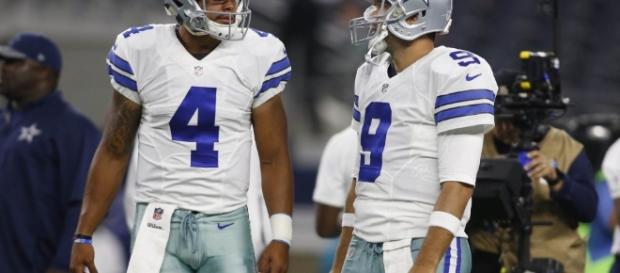 The Dallas Cowboys tacked on another victory on Sunday in Week 5 #NFL action. In a game that the Cowboys hosted, Dallas doubled-up the Cincinnati Bengals 28-14. With Tony Romo still on the sidelines injured, the Cowboys have surprised the NFL with their 4-1 start behind the strong efforts of rookies Dak Prescott and Ezekiel Elliott.
Prescott, who has been playing in place of the injured Romo, was effective in the game against the Bengals. He went 18 for 24 and passed for one touchdown and 227 yards.
For a team that favors the rushing side of things that is certainly a respectable effort. Elliott, for his part, trudged for 134 yards on Sunday and he currently leads the NFL in rushing on the season.
Romo and Prescott compete for playing time
The emerging drama in Dallas has to do with Romo and his playing time after he returns from injury. The Pro Bowl quarterback remains more proven than Prescott and, along with that line of thinking, it could be argued that Romo should be the starting QB instead of the rookie. 
However, on the 'what have you have done for me lately' side of things, Prescott is 4-1 as a starter this season. Furthermore, he is a rarity for his position as he has yet to get picked off despite being a regular starter.
Green Bay Packers next up for Dallas
There is still one game to be played next week in Green Bay before Romo returns in Week 8 (Dallas has a bye in Week 7). If Prescott's form dips then, an argument could be made in favor of playing Romo in the rookie's place.
But if Prescott continues to play well then dropping him as the starting quarterback could be a costly mistake.
This is a debate that has received considerable attention in the NFL this season. Nancy Armour, writing at USA Today Sports, made a comment on the matter that I fully agree with. According to Armour, "Giving Romo his old job back has the potential to disrupt the Dallas Cowboys this season and would definitely hurt them in the long run" (October 10th, 2016). 
Armour, which her focus on the "long run," seems to consider the bigger picture than just the current NFL season:
"By sticking with rookie Dak Prescott and parting ways with Romo in the offseason, (Dallas' GM) would have the money to overhaul the Cowboys' defense — the one thing keeping Dallas from being a Super Bowl contender."
Super Bowl chances real this season
One thing to note in reporting to Armour is that the Dallas Cowboys are creeping up the list when it comes to Super Bowl favorites this season. They started as peripheral contenders, but teams that win 80% of their games start to change minds.
Currently, the Cowboys are considered the 8th favorite with bet365, behind seven other teams including the Packers. If Prescott can help guide his side to victory at Lambeau Field over third-favored Green Bay, then the Cowboys would likely be even stronger favorites when Romo returns.
I think the right thing to do with the Romo/Prescott situation is to keep the ball in the rookie's hands. Even if the Cowboys lose to Green Bay, 4-2 would still be a strong record. It doesn't make sense to abandon cold-hard results from a rookie in favor of a 36-year-old injury-prone and maybe even washed-up former Pro Bowler. #DallasCowboys #Green Bay Packers