Trump threatens to escalate attacks on Clinton if more tapes are released
In his stupidity, Trump has admitted that more tapes exist; the search continues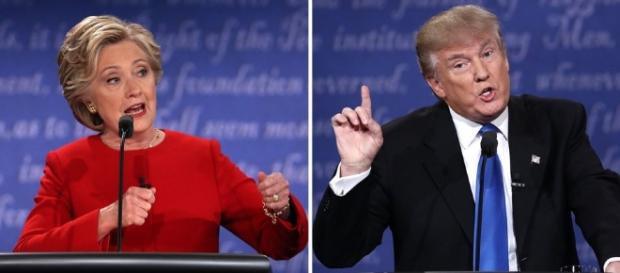 At a campaign rally in Pennsylvania, losing GOP presidential nominee #Donald Trump threatened to wage more attacks on Democratic Party presidential nominee #Hillary Clinton "if more audio tapes are released." In Sunday night's debate, "The Donald" was asked about an audio tape which surfaced on Friday. In that audio tape, the clueless candidate lamented his attempt to entice a young married woman to have relations with him while shopping for furniture. The inexperienced "politician" also bragged about his ability to use his celebrity to touch women's private parts without any consequences.
Trump mistakenly makes stupid admission
Although Trump's intentions are to prevent revelations from the Clinton Campaign and to nullify any further damage to his campaign, he has made a stupid mistake by threatening to "attack" Clinton if any additional audio tapes are released.
"The Donald" has inadvertently admitted that more audio tapes exist and that those tapes are going to be equally damaging, if not more damaging, than the tape that was released last Friday.
Trump's threat also reveals that "the Donald" is scared to death of what the yet to be discovered tapes will reveal. It is obvious that the tapes are potentially very, very damaging, or the bumbling real estate mogul would not be threatening Clinton about releasing more tapes. It causes this observer to hypothesize that whatever is on the reclusive tapes is enough to totally destroy the Trump campaign.
Trump tears after Bill Clinton
Trump also took it upon himself on Monday to go after Bill Clinton and allege that he was "a predator." The failing New York candidate also falsely stated that Hillary Clinton "attacked and discredited" Bill Clinton's "victims." Although Bill Clinton was impeached by the House of Representatives in his second term in office, he was not convicted by the Senate.
The former president never was criminally charged in any of these matters and he still receives his government pension to this day.
Trump loses support from leading Republicans
Meanwhile, a mass exodus of leading Republicans from the Trump campaign has ensued, including such notables as John McCain, Condoleezza Rice, #Arnold Schwarzenegger and others. House Speaker Paul Ryan, who endorsed Trump long before the audio tape was released, has canceled all upcoming appearances for "the Donald." Both former Presidents Bush, and Jeb Bush, have announced that they will not be voting for Donald on November 8, 2016, and even Melania Trump has stated that she is disappointed in her husband. What new secrets will be told by the yet to be discovered audio tapes that we now know exist thanks to Donald's threats? The plot thickens.