Trump's graphic late-term abortion description is also known as a 'C-Section!'
The final 2016 Presidential Debate had Donald Trump offering up a graphic description on a late-term abortion, which was TMI for some?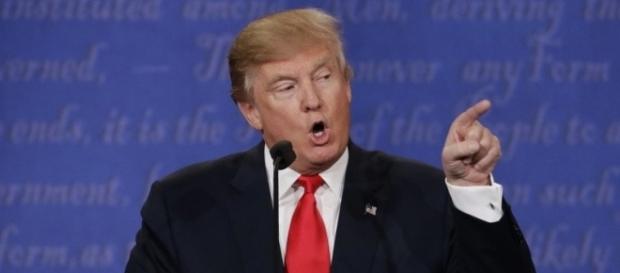 As the final 2016 Presidential Debate played out last night, there were a few graphic descriptions offered up by #Donald Trump when it came to late-term abortion that the audience could have done without. As a man who stands for pro-life the act of an abortion is just wrong in his book and the audience gets that, but that would have been enough.
Trump offers graphic description
When Hillary Clinton was asked about abortion, she said she believes that the Roe v. Wade should not be overturned, but that is when Trump jumped in about the use of #Late-term abortions. He said to Wallace and the audience that Hillary just said that it is OK to "rip a 9-month baby from the womb." He repeated this again and when it looked as if it was coming around a third time it appears he caught himself. 
Scare tactics
Calling Trump's words on "ripping the baby" nothing but "scare tactics," Hillary told Trump she doesn't believe that the government has any business with what a woman does with her health care.
She went on to say there are countries around the globe where abortions are forced upon women and other countries where abortion is against the law.
All around the world?
While it sounded as if she was keeping within the discussion, it really didn't matter what was going on around the world. People want to know about what she plans on fighting for with the abortion issue here at home! It was evident that Hillary wasn't ready for this question. It was a toss-up when it came to Trump having some rehearsal around answering this. As Patheos.com suggests, lately Hillary defends late-abortion as something that comes with a tragic story behind it and she offers no definition of the word "late" as far as a timeline is concerned.
Long overdue at debates?
Late-term abortion is not a subject that has traditionally come up in presidential debates, so it was probably time for this to happen.
According to Fortune Magazine, Trump's comments on abortion caused a commotion online between pro-life advocates and those who support abortion.
Maybe Trump was describing a 'C-Section?'
Some wrote in to say that Trump may be misinformed about late-term abortions, with one person putting it in a way he may understand it. They offered another description for what Donald Trump was talking about when saying a baby is ripped from the womb when the mother is 9-months pregnant. They gave it another name -- a "C-section." Others took to the social media sites to blast Hillary's stand on abortion. 
Trump: Ripping the baby out the womb, may be okay with Hillary, but is NOT OKAY WITH ME #debatenight #prolife #neverhillary

— Matt Batzel (@MattBatzel) October 20, 2016
At first Trump jumped around about his stand on the subject, but he finally did say that he would appoint pro-life judges to the Supreme Court and they may very well overturn Roe v. Wade. This gave pro-life advocates all the validation they needed, evident by the social media posts that popped up.
There. Its incredibly clear. Trump's goal is to overturn Roe v. Wade. #debate

— John Iadarola (@johniadarola) October 20, 2016
#
2016 Presidential Debates