Top 5 Anime shows to watch for Fall 2016
The perfect anime recommendations for those excited to usher in the season of fall with a new colorful kick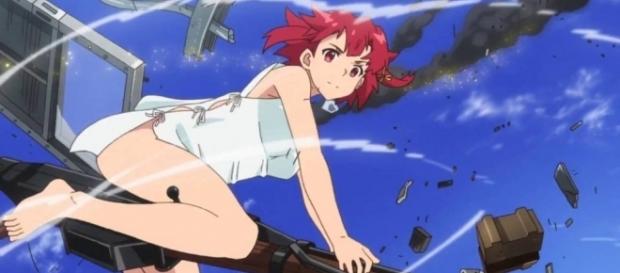 When most people think of October, they think of pumpkin-flavored items and Halloween, but for the #anime world, October is when many of the Fall 2016 anime's debut. There are many great shows that are greatly anticipated for this season and other shows with continuing seasons (including "Naruto Shippuden" with new episodes), but for this list, I chose shows that specifically debuted this season. Here are my top 5 anime recommendations for Fall 2016.
'Kiss Him, Not Me'
High schooler Kae Serinuma is just your typical fujoshi, a female fan of manga that features romantic relationships between good-looking men. However, when her favorite anime character dies, she becomes extremely stressed and rapidly loses weight.
Now considered the hottest new girl at school, she's got four male classmates after her. But the only thing she wants to see is all of them with each other!
'Izetta: The Last Witch'
Set in an alternate universe during WWII, the story follows Izetta, the last surviving witch of her kind with the magical ability to manipulate anything she touches. When the imperialistic country of Germania threatens to take over Eylstadt, Izetta vows to help protect the small Alpine country, including the crown heir to the throne, Princess Finé, whom also happens to be her childhood friend.
'Touken Ranbu: Hanamaru'
Based on a popular Japanese card browser video game, this series takes place in 2205, where "historical revisionists" have started attacking the past in attempts to change all of history. The only thing stopping them are the Saniwa, a powerful group that can imbue life into certain objects, among those being the Touken Danshi, the sword warriors.
'Nanbaka—The Numbers'
From Funimation Entertainment comes the action-packed comedy of the lives of the inmates and prison guards of the world's most dangerous prison. New inmates Jūgo, a one-time escapee, Uno, a womanizer, Rock, a man who likes to start fights, and Nico, an anime fan, all begin their lives at Nanba, not knowing what trouble awaits them.
'Yuri!!! On Ice'
Potentially inspired by former champion Japanese figure skater Yuzuru Hanyu, "Yuri!!! on Ice" follows 24-year-old Yuri Katsuki, who went into the Grand Prix Finale ice skating competition carrying the support of Japan only to be miserably defeated. Returning home to Kyushu, he struggles between continuing to ice skate and going into early retirement. But when five-time consecutive world championship skater Viktor Nikiforov appears at his doorstep offering to coach him, Yuri takes up the challenge to win the next Grand Prix series.
#
Figure Skating