The Turner Prize 2016 is as shameless as ever
Tate Modern presents artists shortlisted this year by England's annual Turner Prize and who shocks in the usual way.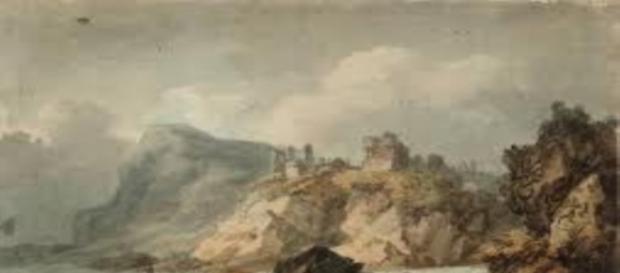 You call this art?
Ever since the Turner Prize was launched in England in 1984 to credit young British artists who distinguish themselves with their #Art-making, the finalists have been coming across as contenders for the most outrageous. You may remember some 10 years ago the winner of the Turner Prize was Damien Hirst for "Mother and  Child, Divided," his expression of maternity in the form of four glass tanks holding the halves of a bisected cow and her bisected calf floating in formaldehyde.
You're kidding, right?
One of the shortlisted offerings this year, now on view at Tate Modern in London, is a  30-foot sculpture of the bare backside of a male spreading his cheeks.
Althea Hamilton is getting credit for this thing, but she got the idea (an unrealized one) of Italian architect Gaetano Pesce who sought to convert the look of a male bottom into an entrance to an apartment building in Manhattan. This accounts for the title of the sculpture, "Project for a Door." Pesce's aim, as stated in the '70s, was to link architecture to popular culture. But just wait, it won't be long before accolades pour in for this sculpture from the cognoscenti who habitually fawn over Turner Prize winners. This column's favorite fawning was for Hirst's hacked up cows. New York Times architecture critic Michael Kimmelman wrote that the artist's "infatuation with death and dead animals" makes the work "likeable."
Turner deserves an apology
You might well question why the name of 19th century landscape painter JMW Turner was ever invoked to honor shock art.
Even cursory knowledge of the way Turner thought makes him the wrong choice. As his biographer, George Walter Thornbury wrote in 1862, Turner loved mystery and concealment, and there's not even a little bit of subtlety in a replica of a rump. Shortlisting Hamilton for "Project for a Door" seems like a joke on Turner.
The end of the Stendhal Syndrome
How far from art has the Turner Prize gone? Consider the Stendhal Syndrome – that visceral reaction to art that 19th century French author Stendhal (Marie-Henri Beyle) experienced when he visited the Basilica of Sante Croce in Florence where Michelangelo is buried. Stendhal wrote that he was so overcome with emotion just being near the artist who gave the world such beauty that he felt he would pass out. The syndrome also hit Marcel Proust, which he noted in his novel "In Search of Lost Time." But many more people have reported this same reaction to visual art. The Stendhal Syndrome was named by an Italian psychiatrist at the Santa Maria Nuova hospital in Florence in 1989 on seeing tourists complaining of dizziness after looking at Michelangelo's "David" and some paintings in the Uffizi Gallery. Art used to have the power to move people, bring them to tears or challenge them to think in different ways. Now we honor shamelessness. #Buzz