The politics of immigration and baseball
A path to U.S. citizenship and living the American dream through baseball.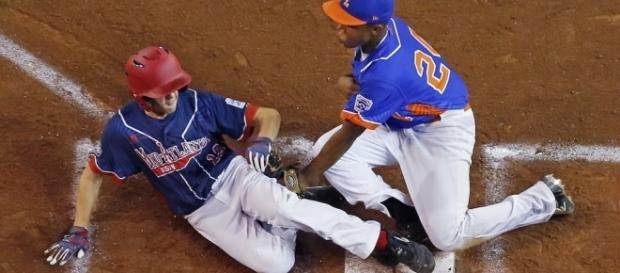 Immigration and #Baseball are making headlines in the US right now, so it seems like a good time to look at what immigrants have brought to our national pastime, and what that pastime has brought to them. There are 263 foreign-born players currently on the 2016 roster and President Obama's negotiations to normalize relations with Cuba promise to make it even easier for Cubans to play in the US.
Immigrant baseball players and America's favorite pastime
Cries of "build a wall," they're taking our jobs," they bring crime and drugs," etc from the far right have made headlines in this terrible contentious election cycle.  I have to wonder how many of those fighting to keep immigrants out of our country are eagerly and lovingly following their teams, wearing shirts and hats emblazoned with the name of their favorite player, spending time cheering and eating hot dogs at stadiums all over the US.
Will they be tuning in to the most improbable World Series anyone can remember? The Chicago Cubs haven't been to a series since 1945 and have not won a World Series in 108 years!  The Indians haven't done much better, not taking home the trophy since 1945.  This will be one for the history books. 
In a country where people have come to escape poverty, political upheaval, religious discrimination, the game of baseball has been a path to immigration and citizenship for many and a way of "becoming American" for others. The game has broken down racial barriers and brought people together from around the world. Baseball is more than a game in the USA, it is a part of our culture, part of the fabric of American life.
 An influx of players from around the globe
The influx of foreign players reflects patterns of immigration throughout our history.  The early twentieth century saw German, Irish, and Italian players.
From there, the Negro league moved up to the majors in the late 40's and 50's when the Dodgers broke the color barrier in 1947 by signing Jackie Robinson. The revolution in Cuba brought players seeking refuge from the island in the 60's and since then players from Latin American have dominated the ranks of foreign players. They come from countries with no Little League, they played wherever they could with scuffed baseballs and shared worn mitts. Players from the Dominican Republic made gloves from used milk cartons. They left family and friends, endured hardship, discrimination and ridicule, but they all came for one thing, a chance to live the American Dream.
World Series offers a break from politics
This 2016 World Series is an optimal symbol of that dream. Two teams that have long been at the bottom of the heap are battling for the big prize. Fans that have shown the quintessentially American "never give up" spirit are being rewarded for their loyalty. With the election only a few days away, the World Series gives us a chance to take a break from politics and enjoy the game that embraces the best of our country, a mix of people and cultures, individualism and team work.