Philadelphia 76ers justified in keeping politically-slanted singer from performing
Did the NBA learn from the NFL Colin Kaepernick situation not to force politics onto their fans?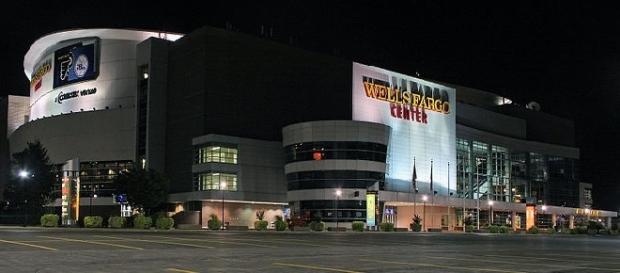 NFL TV ratings have taken a big hit so far this season and, to be clear, the reasons for why are multifaceted. The Donald Trump show could be a big reason why and so could the ever-growing usage of live streaming of sports (ie. computers/androids aren't TV.) However, one factor that has been identified as a variable in the dipping ratings is the politicalization of the NFL broadcasts via the players, mainly Colin Kaepernick.
That's a point that Mike Ozanian, writing at Forbes.com on October 18th, made on the matter: "The protests," he wrote, "of the national anthem by NFL players continue to hammer the league's TV ratings." Ozanian, with his use of the word "hammering," could be overly attributing the effects of the protests on the ratings, however that they are considered a variable should be clear.
Philadelphia 76ers react to political t-shirt
The Philadelphia 76ers' reaction to a politically-slanted message sported by a national anthem singer may reflect an NBA plan to not head down the same route as the one the NFL appears to be heading down. A singer named Sevyn Streeter wasn't exactly going to protest during the anthem at a recent NBA game. However, she alleges that she was denied the opportunity to sing in Philadelphia on Wednesday. The reason, she claimed, was because she was wearing a "We Matter" t-shirt: "I'm at the 76ers' game," Streeter claimed on Wednesday night, "to sing the national anthem and the organization is telling me that I can't because I'm wearing a 'We Matter' jersey" (video in Tweet far below).
Due to the moderacy of the political stance the 76ers' reaction has to be taken as a clear effort to keep all politically-slanted messages out of the team's presentations of its games.
However, the move could still draw some controversy if it is regarded as an affront to people who sympathize with the "We Matter" message. In short, whether teams keep political messages out or in they might hurt just the same. 
In regard to entertainers, like Kaepernick and Streeter, they appear to be facing a challenge of where it is acceptable or wise to communicate their views and where it isn't. That matter came up over the course of the WNBA season as well. Several members of the Minnesota Lynx expressed support with the Black Lives Matter movement and were subsequently discouraged from doing so.
In the supply-and-demand world it seems that entertainers that use their platform for a political agenda might go down in demand. After all, the NFL is suffering in part because of the protests and that will lead to lost profits somewhere and lost jobs. Meanwhile the 76ers' message to singers is to come and sing, not to politicize, or else don't expect to work. It's a message that doesn't bother me: there is something wrong with contracting to be a part of an entertainment production and then trying to sneak in some surprise political messaging. 
Many of those that sympathize with the causes that the entertainers believe in might be disappointed with Streeter's denial.
However, she is 100% responsible for her presentation and her decision to wear a politically-slanted shirt was her risk to take.
Was Streeter trying to inculcate?
It could be that Streeter was looking at the fans as potential political converts and that her shirt was an effort to inculcate. I think the 76ers were bang on to look at them as basketball-viewing consumers instead that paid for an experience that didn't have to do with political inculcation.
These entertainers that are absorbed in their own viewpoints don't necessarily think about the diversity of the crowd or of their desires when they buy a ticket. Whether the viewpoints have merit or not, the context of expression is important. If you want to play in the NFL play football. If you want to sing the national anthem, then keep the politically-slanted messages out of it. if you want to want to communicate a political view, then start a blog where people can voluntarily seek out your discourse.
Was suppose to sing the anthem at @sixers & @okcthunder game but mins b4 @sixers said I couldn't because I was wearing a "We Matter" jersey pic.twitter.com/wjoJN3rq0r

— Sevyn (@sevyn) October 27, 2016
#NationalAnthem
#WeMatter
#Philadelphia76ers