Mike Pence totally sidesteps comment from an 11-year-old girl; story goes viral
Trump's sidekick has no answer for girl whose self-esteem is affected by Trump; comments about women are hurtful.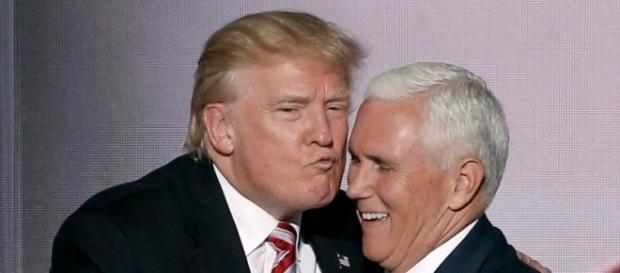 #GOP vice-presidential candidate #Mike Pence totally sidestepped a heartfelt comment from an 11-year-old girl during an interview at a Columbus, Ohio television station. The girl made her comment to a television station staff member who in turn relayed the question to Pence. The girl stated to the staff member that #Donald Trump, who has been accused of groping and sexually assaulting women,  made her "feel bad" about herself as a girl because of his statements about women. Over the last year, Trump has denigrated women, ridiculed women for their looks, rated women on a scale of one to ten, and insulted women for their intelligence. In addition, an inflammatory ten year-old audio tape was released by The Washington Post a week ago Friday.
In that audio tape, Trump stated that he can touch a woman's body on any part of her body without consequences because of his "celebrity."
Pence's clumsy sidestep
In his answer to the girl's comment, Pence did not address Trump's misogyny or denigrating statements about women at all. Instead, he talked about making the world safe from terrorists and building a "stronger, safer and more prosperous America." Pence's answer totally sidestepped the girl's comment and did not answer any of her concerns whatsoever. It is not clear whether the sidestep was deliberate because Pence had no answer, or if Pence was spewing a memorized comment that he had practiced during debate practice. As this observer sees it, it really does not matter what the reason is for Pence's clumsy sidestep.
The point is that Pence totally avoided addressing the girl's comment and did absolutely nothing to enhance the little girl's self-esteem about being a girl in the midst of all of Trump's misogynistic comments about women.
News went viral
The story of Pence's answer went viral, especially on Twitter. Reaction was swift and to the point. In one of the tweets, Alex Sherman noted that Pence had mistakenly said "feckless" when he meant to say "reckless" in describing the foreign policy agenda that Hillary Clinton promises to follow.
I'm sure Pence would have convinced this 11 year old once he said the word "feckless." https://t.co/FXQkhiO1aL

— Alex Sherman (@sherman4949) October 14, 2016
GOP's future is in question
Meanwhile, observers have stated that they believe that the very existence of the Republican Party is at stake because of the intense divisiveness that has been caused by Trump. A number of very high-profile Republicans, including both former Presidents Bush, John McCain and Arnold Schwarzenegger and others are refusing to endorse Trump. House Speaker Paul Ryan reluctantly endorsed Trump, but refuses to attend any events for Trump.