Michelle Obama slams it to Trump; 'No woman deserves to be treated this way'
First Lady says that Trump's comments have shaken her 'to the core'; 'Can't stop thinking about this'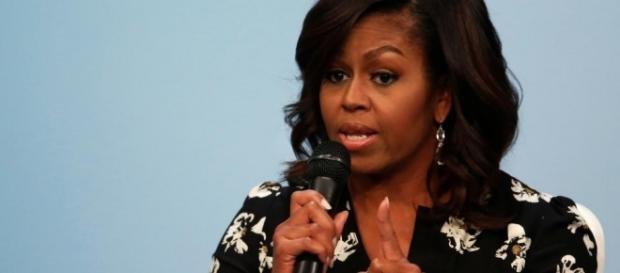 In a decidedly passionate speech on Thursday, First Lady Michelle #Obama slammed it to #Donald Trump for his misogyny towards women, and for his depiction of women as sex objects to be manipulated by sex craved men. The First Lady was referring specifically to a recent audio tape  released last Friday by The Washington Post. In that audio tape, which Trump now describes as "locker room banter," "the Donald" bragged about his bravado and his ability to touch women's private parts. The failed businessman and alleged sexual predator also lamented a furniture shopping spree with a woman during which he made unwelcome sexual advances towards her.
Trump stated in the audio tape that the woman did not submit to his advances and instead resisted them. Trump claimed in the audio tape that he can "get away" with these kinds of sexual advances towards women because of his "celebrity."
Michelle Obama protects the children
In her speech, Michelle Obama talked of the need to protect young girls and boys from Trump's remarks. Obama discussed the fact that young girls' self-esteem could be affected adversely by comments from a presidential candidate who denigrates and dehumanizes women and describes them as submissive sex objects. Obama also discussed the fact that Trump is a horrific and divisive example for young boys who are looking for male role models. She highlighted the fact that boys need to grow up to be men who do not demonize women and who are sensitive and caring individuals with good, moral values.
Michelle Obama says "it's about decency"
MIchelle Obama emphatically told Trump that this matter is not "locker room banter," as he described it. The First Lady, who as of now has 100 days left in the White House, told Trump that it is "a matter of decency." She discussed the fact the Trump campaign has taken presidential politics to "a sick, sickening feeling" and that it is embarrassing to her when foreign leaders witness Trump's disgusting comments about women.
Michelle Obama: Trump comments "disgraceful" and "intolerable"
Obama stated that Trump's comments about women are "disgraceful" and "intolerable" and that "no woman deserves to be treated this way." In the second debate, "the Donald" attempted to direct attention to Bill Clinton by displaying women who had alleged in the past that Bill Clinton had made sexual advances towards them years ago. The stunt failed and only brought out the fact that Trump is desperate and knows it.