Major League Baseball losing credibility as game three of 2016 ALCS looms tonight
Jose Bautista made recent comments that have been discussed widely by numerous commentators.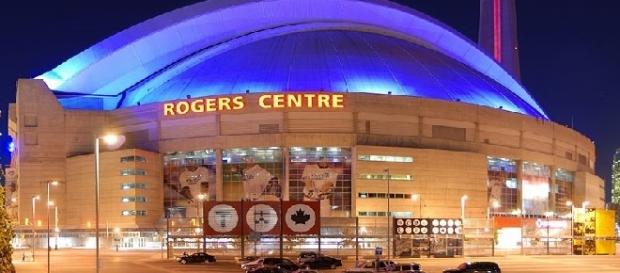 The Toronto Blue Jays find themselves down 2-0 as they prepare for a home game in the 2016 ALCS. However, a key issue isn't who is winning or losing as much as whether or not the umpires are calling the games in a balanced matter. There have been numerous Blue Jays' hitters that have been wrung up on strikes out of the strike zone in games one and two combined, something that will surely remind honest baseball fans of the 9th inning of game six of the 2015 ALCS.
Jose Bautista comments on the pitch calling
Jose Bautista, quoted by the CBC, commented on the series: "All you've got to do is look at video and count how many times Indians pitchers have thrown pitches over the heart of the plate.
It hasn't been many," Bautista said. "They've been able to do that because of the circumstances, that I'm not trying to talk about, because I can't."
Bautista also suggested that it's for others to talk about what the Blue Jays are going through and he thinks that many aren't doing that. However, one commentator that did weigh in last year when the Blue Jays went out on calls was Don Cherry. I reviewed his comments a couple of days ago and won't get into them again here. However, I myself have discussed Canadian-based franchises in North America a lot.
Bad calls predicted?
Take an article I wrote at MovieTVTechGeeks.com, for example, on April 3rd, 2016 entitled "Toronto Raptors unlikely to end the Canadian slump." The article chronicles the 'failures' of Canadian-based franchises over the last 20+ years with a hint that it has to do with economics as opposed to fair play.
As of April there had been 202 title-less seasons in MLB, the NBA, and the NHL combined for Canadian-based clubs since Joe Carters' home run. I commented on the 2015 ALCS specifically: "the Toronto Blue Jays had their 'Eh-game' in the playoffs last season only to see it get shelved behind the suspiciously egregious umpiring of game six of the 2015 ALCS."
While writing a betting tip in March for another website called Puntersblogs, I stated the following: "I do not recommend Toronto for any betting angles in the post-season. It's my opinion that Canadian-based franchises...are seeing reduced success because of economics (ie. the playoffs are largely for American TV audiences and that could be setting forces in motion that favor the American teams)" (Puntersblogs/March 27th, 2016).
In a way I really did see the outside balls going for strikes coming from nearly seven months away. It's a point I learned last season after how odd game six was in the ALCS. But I will say this: the umpires could be just making human errors with their incorrect calls.
Human errors exist in umpiring and you can't differentiate conclusively between them and deliberate bad calls. When it comes to suspicion, it's a far different matter.
On that note I definitely align myself with the Blue Jays' hitters who think that outside pitches are being called strikes against them. Of course, Cleveland Indian fans will think that things are just finally going their way: the winners of the game claim that the rules are fair.
Call hurts #BlueJays
Strike 3 should be ball 4
Top 9 Allen vs Encarnacion
34% call same
0.9in from edge pic.twitter.com/snJcKgdftw

— BlueJays Strike Zone (@BlueJaysUmp) October 15, 2016
At the end of the day whether the Jays are getting a fair shake or not might not matter. Whether the calls are human error or deliberate attempts to keep a Canadian-based team out of the World Series due a belief that TV ratings would suffer in the United States, a country with nine times the population, may not be relevant. Major League Baseball is losing credibility with Canadians and with honest baseball fans south of the border. The ramifications aren't clear, but I could see baseball dying a slow death in Canada, because I think Canadian fans are concluding that making the ALCS is the Blue Jays' ceiling.
I'm actually looking for some fair umpiring in game three, four, and five of the ALCS. MLB is under the microscope and they need to protect their credibility. That makes the games anyone's ball games but only after Cleveland took or received a two-game series via human error or "circumstances."