Hurricane Matthew hits Haiti hard
Early morning landfall provides cruel awakening for residents of wide open country.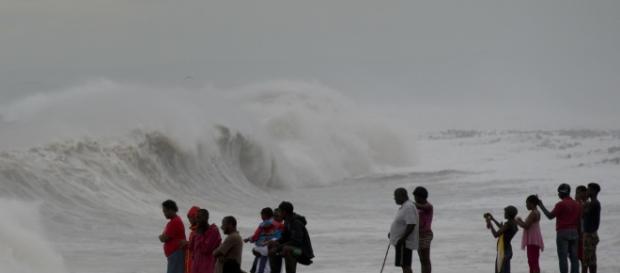 Hurricane Matthew slammed into #Haiti early this morning. Due to changing weather conditions, which led to changing predictions, there was still some hope that the storm would weaken before it reached the coast. However, Matthew crashed ashore with wind gusts as high as 145 mph. The impact of the storm was highlighted by the fact that many of Haiti's residents live in an extremely impoverished state.
Poverty-stricken residents even more at risk
Whereas some parts of Haiti are more modernized, the powerful storm struck land on the Tiburon Peninsula, which is along the southwest coast. Many of the residents have homes built of mixtures of mud, sticks, and straw because these are the least expensive building supplies.
While this is fine for the usually calm tropic weather, when a tempest like Matthew threatens to strike, it makes these houses, and likewise its inhabitants, veritable sitting ducks.
This is why many of the residents, having seen the damage these squalls can inflict, took no chances on playing hero. Over 6,000 people sought safe haven in the sturdier walls of the temporary shelters put up in advance of the storm. And so far that has proved to be a very wise decision, although, sadly, there has been at least one death attributed to Hurricane Matthew. Haiti's landscape lends itself to taking direct hits from violent storms because trees, a natural barrier in helping to slow down blustery gusts, are almost as extinct as buffalos roaming the Wild West in America. About 80% of the country is barren of trees, which allows the winds to cut through the area like a knife.
South Carolinians fear repeat of last year's devestation
Many in the United States are keeping a watchful eye on the progress of Hurricane Matthew. Especially the residents of South Carolina where almost exactly a year ago, the state was hit with horrific flooding. Lives were lost, and the damage to roads and highways was massive. Many people are just coming out of the cleaning up and rebuilding stage. And so it is little wonder that South Carolinians shudder to think what could happen again with its open coasts and beautiful beaches.
The best thing that comes out of these tragedies is that they prove how resilient people all over the world are. In the worst of times, and sometimes at risk to their own lives, members of society bend over backward to help friend and stranger alike. #HurricaneMatthew #SouthCarolina