Huma Abedin's Wiener sticks it to Hillary Clinton's election hopes
Hillary Clinton had a chance to be President until Anthony Wiener sexting investigation takes a hard right turn.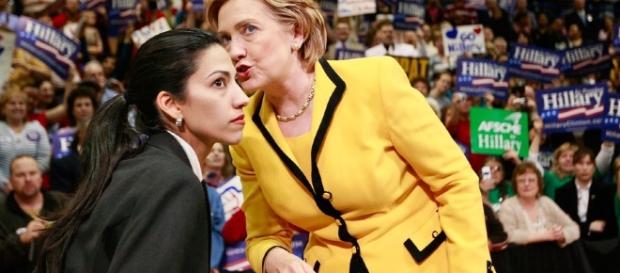 Sex, scandal, backstabbing, and corruption makes for great reality television, but it makes for a horrible Presidential Election for #Hillary Clinton, and #Huma Abedin. Never before, and hopefully never again will the United States at any level have another election cycle like the one we are currently witnessing. We the people are in control of that, and this time we obviously could have done better.
The emotional roller-coaster is drawing to close, but as we should have expected this election will end with a grand finale that will make television producers rush to turn it into entertainment. Honestly, some of it has been entertaining if you kept it in the right perspective.
Things changed daily keeping some engaged while others were enraged, but neither candidate suffered a knock-out, until possibly now. Donald Trump just had to keep his hands to himself while waiting for the Clinton implosion.
FBI re-opens investigation
The FBI reopened the investigation concerning Hillary Clinton's emails. This in itself was not good. Who could in good faith vote for Clinton now? In July many Democrats praised the FBI for their work on the investigation making it almost impossible for Democrats to now cry partisan politics. If we cannot trust what is supposed to be the best in law-enforcement then we have a much bigger problem than who sits in the Oval Office.
The way this new information was brought to light was in disturbing fashion. While the FBI was investigating Anthony Wiener for sexting with a 15 year old girl they found Clinton emails, possibly classified emails.
That would make it hard for them not to recommend charges against Clinton for endangering National Security, not exactly what you want from the next President.
This all started in the 90s'
It does seem ironic to those of us who were adults in the 90s' and watch in amazement the first time the Clintons occupied the White House. Things like that were not even talked about in mixed company, and the President up until that time was looked upon without reproach. You may not have liked him, but he was the President so you treated him with respect.
Bill Clinton was not convicted when he was impeached, but he should have been. A president having sex with a 21 year old intern is comparable to a high school teacher having sex with a student. If you were not an adult then go back and watch some news videos, it was an awful time in politics just like now. The Clintons were an embarrassment to all Americans, and still are to this day.
The year of the cock
Again those us that were adults when this was happening will no doubt find a little redemption if the thing that finally sends the Clintons packing from Washington D.C.
is a picture that Anthony Wiener texted to a young girl. Karma in my opinion is a real thing, and what goes around comes around even if it takes over 25 years. Next year is the Chinese Year of the Rooster, and that seems to be an ironic twist concerning all the parties involved in this election.
@realbadger Can I add hard or soft to that?

— Habbenero 🇮❤♋ (@nhabben62) September 25, 2016
#
Election 2016