How Hillary Clinton treated Bill's sex scandals and female accusers
The infamous 'bimbo eruptions' lead to the ultimate intimidation campaign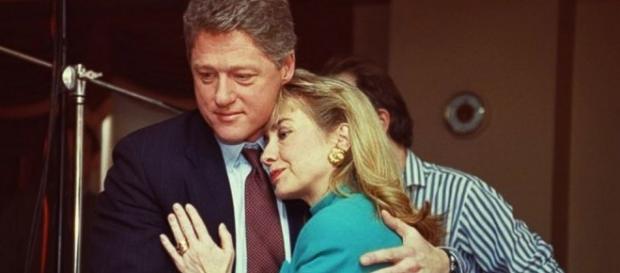 #Hillary Clinton has taken a combative stand on women's issues in her 2016 presidential campaign. Yet 25 years ago, any woman who got in the way of the family's political goals was publicly and privately persecuted. These so called "bimbos," having accused her husband of sexual misconduct have since received special criticism from the former first lady.
Timeline of Bill's sex scandals
1969: British teenager Eileen Wellstone is allegedly sexually assaulted by then 23-year-old student Bill Clinton after meeting in a pub near Oxford University
1978: Nursing home administrator Juanita Broaddrick is allegedly sexually assaulted by Bill Clinton in her own room.
She did not speak up about the affair until 1999. No charges were filed, as Bill continues to deny the accusations.
1979: Legal secretary Carolyn Moffet is allegedly sexually assaulted by Bill Clinton in a hotel room after a fundraiser.
1980: Bill has an affair with model and actress Gennifer Flowers. He admitted to the allegations after Flowers revealed phone calls she secretly recorded between the two. Jokes about the attention the couple was receiving and Bills sexual talents could be heard on the recordings.
1983: Former Miss Arkansas Sally Perdue has alleged four month affair with then-governor, Bill Clinton.
1991: Political fundraiser Sandra Allen James says Bill Clinton invited her to his hotel room during a campaign trip and sexually assaulted her. Arkansas State Police intervened after hearing screams from James.
That same year, state employee Paula Jones says she was invited to Bill's room by a state trooper on his behalf and was sexually assaulted. Clinton denied the charges and settled with Jones for $850,000. Shockingly, another sexual assault claim was made by former campaign flight attendant, Christy Zercher.
1993: Former White House volunteer aide Kathleen Willey is sexually assaulted her during a meeting in the Oval Office private study. Bill denies this. However according to fellow White House employee Linda Tripp, the encounter seemed more like an affair than an assault.
1995: United States President Bill Clinton began his infamous affair with 22-year-old White House intern Monica Lewinsky. 
Hillary's involvement
Name-calling Gennifer Flowers as "trailer trash," Hillary professed on Arsenio Hall that the accuser has "got lots of problems." Later in an ABC News interview, Hillary divulged that Flowers was just "some failed cabaret singer who doesn't even have a resume to fall back on." As for Lewinsky? Of course she was a "narcissistic loony toon."
Is there truth in Trump's accusations that Hillary was an enabler of her husbands infidelity? Given Trump's own marital history, this is certainly hypocritical. What Hillary said or did behind closed doors is still up for debate.
However, that doesn't leave out the fact that she assented to the Clinton campaign's game plan of hiring private investigator Jack Palladino to scrutinize Bill's accusers.
In an interview with Matt Lauer on the Today Show, Hillary is famous for asserting that a "vast right-wing conspiracy" was behind the accusations of affairs between her husband and Monica Lewinsky. She later threatened that "some folks are going to have a lot to answer for." And perhaps this was true, as numerous allegations have surfaced from various women of being personally intimidated and silenced by the former first lady herself.
Food for thought
There is absolutely no reason why Bill's infidelity should ever be blamed on Hillary. But do we need examine what she did to protect herself and her position of power in fighting accusations and tarnishing accusers? (even after allegations were confirmed to be true) #Election 2016