Hillary vows to care for Michelle Obama's future crops once poking through glass ceiling
Michelle Obama to relinquish her White House vegetable garden to Hillary, but are the former First Lady and the present First Lady jumping the gun?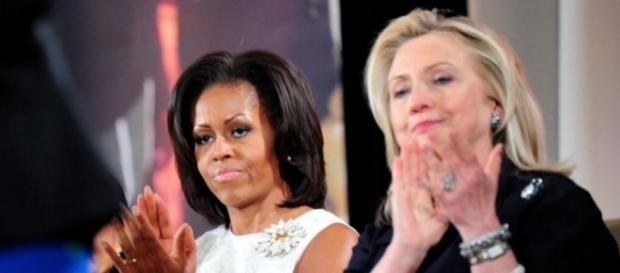 #Hillary Clinton took to the podium today with Michelle #Obama waiting in the wings to talk at a campaign rally. One of the more pressing subjects to come up while Hillary was speaking was resolved with a vow that she made to Michelle Obama, which should prompt all of you to sleep better at night.
It seems Michelle Obama created an elaborate vegetable garden on the lawn of the White House during her eight years living at 1600 Pennsylvania Avenue and today Hillary gave her promise that she will make sure it is cared for. It was a heartfelt gesture on Hillary's part, she is willing to attend to Michelle's future produce crop.
It's a fresh produce kind of thing?
It might have been just a little too soon for Hillary to promise to take care of Michelle Obama's tomatoes, squash and carrots. Apparently Hillary didn't think about the distance she will need to travel from her New York home to play Farmer Green Jeans on the White House lawn if she doesn't win the election.
Now that the garden and its care has become an issue, is Hillary hoping this will stop you from voting for Trump, who did not cover so much as one of Michelle's tomatoes in his many speeches? As the Washington Post reports, Hillary and Michelle were able to put their "bad blood" behind them. It is not known if the two did this just for the sake of banding together to beat Trump or if they've actually have become friends.
Moms waiting for their kids on second floor
It appeared that being a woman was a theme that both Hillary and Michelle sprinkled into their comments to the small crowd that gathered on Thursday to cheer Hillary on.
Hillary painted a picture of herself as a younger First Lady standing by the door in the White House waiting for Chelsea to return home from school.
Michelle nodded to the beat of Hillary's syllables and smiled as if to convey she too knows that door very well on the second floor of the White House. With Hillary's heartfelt story, you waited for her to throw in the warm cookies and milk awaiting Chelsea, but that didn't happen. Of course in Michelle's case maybe carrot sticks were in order, but neither one mentioned an after-school snack for their kids. So much for being Kool-Aid moms!
Hillary hopes to pop her head through glass ceiling soon!
These two ladies united in poking the woman card out during both of their speeches. It wasn't a full-blown "I Am Woman Hear Me Roar" show that they embarked on, but they offered up reminders of a "glass ceiling" that they believe Hillary is about to pop her head through.
Michelle Obama for 2020 or 2024?
Michelle Obama reminded the audiences that traditionally the First Lady of the nation doesn't get involved in campaigning for other candidates, but these two women are anything but traditional.
If Hillary's campaign had to assign a tag to their top asset, that would be Michelle. You couldn't help thinking that she too might follow in Hillary's footsteps with a campaign about eight years down the line, just as Trump finishes out his two terms?