Hillary's hubby sabotaging campaign? New pic shows Bill Clinton with thumbs up for Trump
Bill Clinton raises red flags as his antics seem to suggest he just doesn't want Hillary Clinton in the White House.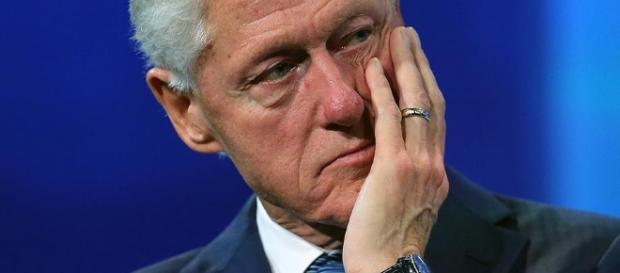 Is Bill Clinton subconsciously trying to sabotage #Hillary Clinton's chances of ever getting into the White House or does he know just what he is doing? Some of his antics lately might suggest that this is a man who doesn't want to change his residence for the next four years or be known as Hillary Clinton's First Dude.
Bill Clinton for Trump?
Embracing a guy in a #Donald Trump t-shirt is one thing, but to stand there so the Trump logo is in perfect view and throw a thumbs-up into the mix seems to say this is who Bill Clinton is rooting for. If it was just this one picture suggesting his allegiance lies elsewhere then you could chalk it up to an unfortunate incident for Bill, but it's not.
One of the biggest red flags to fly was when Bill painted Obamacare as a huge failure during a recent speech. He called Obamacare "crazy" because it doesn't work, as the Washington Post reports. This is not only a healthcare plan that Bill's wife Hillary had a hand in, but she is planning on keeping it if she becomes the next U.S. President.
'A picture says a thousand words'
One of the latest pictures making the rounds on social media sites is titled, "a picture says a thousand words," and it sure does! The pictures are seen in the tweet below.
@Titanic_Britain Twitter removed this and 50 retweets please retweet the hell out off it Bill comes out for Trump! pic.twitter.com/7cTis3Kw6O

— Louis Cannell (@Lucan07) October 22, 2016
'Crazy' Obamacare
His "Crazy" Obamacare speech dropped jaws and sent the Hillary Clinton camp into immediate damage control.
From Bills gaffe, Hillary's stand on Obamacare changed. She now calls it a "foundation" for national healthcare and she is planning to pluck out what doesn't work, like high premiums that make this "affordable healthcare" an unaffordable system for a sizable group within the middle class.
What's Bill's agenda?
According to the Washington Examiner, Matthew Dowd, who is a political analyst with ABC, said that while Bill does a good job at selling himself on the campaign trail he just doesn't do the same for Hillary. He went on to say, "Bill Clinton has never been a good campaigner for his wife." So why is that? Does he not want his wife to take the office he once held for reasons that it will rattle his lifestyle today? Does this feel like a step down for him seeing Hillary step into his old shoes?
Hillary's prone to dizzy spells
The Washington Examiner suggested earlier this month that Bill Clinton may be doing more harm than good for Hillary Clinton's campaign. Not only is he a reminder of his own past sex scandals while on the campaign trail, but he says things that seem to be working against Hillary's campaign.
A few political analysts suggest that he has shown at times to be more of a liability than an asset to his wife's campaign.
He did make mention that his wife is prone to "dizzy spells" during a speech, which did not help Hillary's attempt to dim the concerns about her health to the masses. Perhaps the latest picture that was recently tweeted does say it all. Could it be that Bill Clinton is secretly hoping that Trump will win the election?