Hillary Clinton perfects her Nana wave at the final 2016 Presidential Debate?
It was apparent at the 2016 Presidential Debate that Hillary perfected her Nana wave, where she puts her arm out in front and dangles her fingers!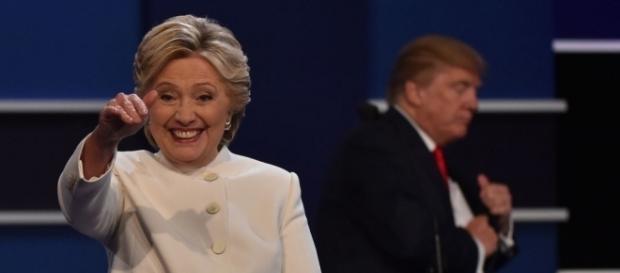 Hillary Clinton has suddenly honed in on many of the mannerisms traditionally associated with the elderly and this was never more evident than at last night's 2016 Presidential Debate. As you can see in the picture, she's got the Nana wave down pat, with that fixated smile she dons. When coupling that dainty wave with that exaggerated smile, it is a very similar presentation to one often seen at the front door of an elderly grandparent's house as they wave hello and goodbye! 
Look, she's doing he Nana wave!
While she had her Nana wave going in full force along with that bizarre smile that hardly leaves her face while in public, last night that smile was wiped off her face a few times.
After a couple of questions that came her way Hillary's facial features took a dive during last night's debate. One of those moments was when Trump asked her if she is willing to give back the money given to the Clinton Foundation from countries that treat women horribly. As soon as that question was asked, you knew a definitive answer would never materialize. 
Hillary's gone dainty?
It seems as if Hillary's movements have become more dainty than they were in the past. At one time she had a strong and powerful wave of her hand, depicting power. Today she is often seen holding her arm out in front of her and giving a tiny wave by dangling her fingers making her look more fragile than anything else. Hillary was never a frail woman, but she does sport some of the mannerisms seen on frail people.
In an article from Reuters last month, a body language expert analyzed Hillary Clinton as she talked about her email debacle and they watched as she spoke to crowds. The one thing they can say is that Hillary cannot hide how "deeply discombobulated" she is today. She did manage to duck out of two questions at the debate last night, suggests Philly.com. She didn't answer the question about her role in her husband's sex scandal and whether or not she managed to keep her word about keeping the Clinton Foundation separate from her job at the State Department.
Other behaviors in question.
The she navigates stairs has made headline news in recent months. She is often seen with people helping her up and down a flight of stairs. One of the more famous pictures was posted back in August showing Hillary getting plenty of help on a stair case during one of her campaign stops. Again this type of help is usually offered to the elderly or frail, but Hillary denied any problems here.
UNFIT: Hillary can't walk up stairs. This needs to spread like WILDFIRE, she's UNWELL @LouDobbs #NeverHillary pic.twitter.com/4FCWrp1g14

— ALWAYS TRUMP! (@Always_Trump) August 7, 2016
Then of course there was that terrible incident where she went limp getting into her campaign vehicle, which was later described as Hillary suffering with pneumonia.
Her handlers were also helping her walk before she went down. Hillary is not elderly in today's standards, she's only 68-years-old, but she suddenly started to pick up these mannerisms that seem to suggest she's feeling older than she is. Hillary's birthday is this month and she will turn 69-years-old on the 26th and while still on the campaign trail.