Gingrich won't defend 'the Donald's' 'Little Trump' comments about his female accusers
Former House Speaker says that he has told Trump that he won't support him when he 'wanders off.'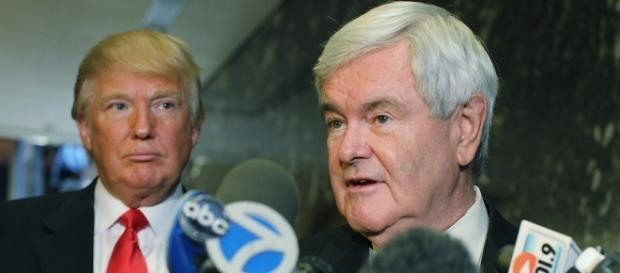 Former GOP House Speaker and failed presidential candidate #Newt Gingrich told ABC News that he will not stand by "Little Trump" when he emerges and makes "stupid" comments. Gingrich stated that Trump, who has been accused of groping and unwanted sexual advances by multiple women over the years, has two basic personas. The first persona is what Gingrich calls the "Big Trump." Gingrich described the "Big Trump" as an "historic figure" who challenges the "establishment" and makes it very uncomfortable. The "Little Trump" is the one who makes denigrating comments about women and their appearance, rates women on a scale from one to ten, and ridicules the appearance of women who make allegations of sexual abuse against him.
Gingrich called such comments by Trump "stupid."
Tough talk from Gingrich
Gingrich, who also has a reputation for shooting from the hip and telling it like it is, had some tough words for Trump. The former Speaker, who resigned in 1999 after failing to get Republicans elected to the House, told Trump that he will not support him when he "wanders off" into the "Little Trump" mode and ridicules women. Gingrich did not specify which Trump would be prevalent in the White House should he get elected; nor did he state what he would do if the wrong Trump emerged. It is unclear at this point what role, if any, that Mike Pence would have in the event of the emergence of the "Little Trump" in Gingrich's mind. Perhaps the befuddled Speaker will clarify all of this once he figures it out himself.
Monitoring the polling stations
Gingrich, who compared the 2016 Presidential Election to that of 1960 when Richard Nixon was the GOP candidate, warned voters to be cautious and to monitor the voting boxes at the neighborhood polling stations. Gingrich stated that to deny the possibility of voter fraud in Pennsylvania is to "deny reality." Gingrich did not stipulate exactly how voters are to monitor the ballot boxes since all voting is confidential. Perhaps he will provide a lesson or two in his next "has been" interview.
Threats from Trump
Meanwhile, Trump, in his usual fashion, has been unable to remain quiet throughout this entire ordeal concerning his denigration of women. He has promised to wage additional attacks against Clinton if more tapes of him discussing his sexual conquests over women are released. #Hillary Clinton is not holding her breath. After all, she knows that just like the "Big Wolf," the "Little Trump" is full of hot air! #Donald Trump