Fad of Fandom: Dallas Cowboys fans give eulogy to Tony Romo's career.
Fans of "America's Team" threaten to revolt if the Cowboys staff decides to start veteran quarterback Tony Romo over Rookie sensation Dak Prescott.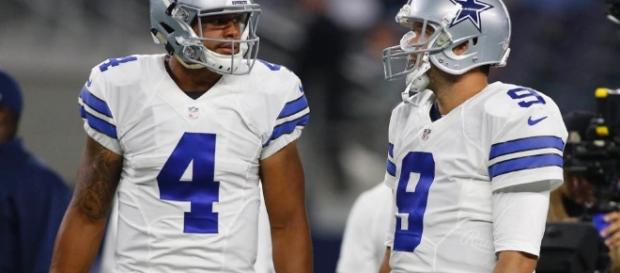 Last year was doom and gloom for Cowboys fans. This season's surprisingly good start has offered hope for a franchise that yearns for the good-ole days of Aikman, Emmitt, and Irvin. Ironically, in the same breath as claims that this rookie-led team is reminiscent of past glory, those who weigh in on the QB situation often respond to Romo praise with "But, what have you done for me lately?" Some even suggest trading options. A 5-1 record has fans all but engraving Dak Prescott's name into the Cowboy's Ring of Honor at AT&T Stadium.
Romo yet to shake reputation as game-killer
The fumbling, interception-throwing, bumbling caricature that Romo has carried around for over 10 years is largely a bundle of misconceptions.
There are multiple instances of Romo being charged with interceptions that were clearly not his fault. For instance, in a 2013 classic against Manning's Broncos, Romo threw for 506 yards and 5 touchdowns. He threw a game-ending interception when he his lineman backed into him, causing him to trip and the ball to be misdirected. In actuality, Romo has a 97.1 Quarterback passer rating. That's third all-time behind only Russell Wilson and Aaron Rodgers. Tony Romo is easily a top-10 quarterback in the #NFL. Actually, it's hard to name 9 others you'd take over him today. So why would you bench the player who is a Super Bowl away from first-ballot hall of fame in favor of a good player on a team with the leagues leading rusher and best offensive line. But, this story isn't new. We as society always go for the shiny new toy.
Indianapolis got rid of Manning, who at that time was a Super Bowl winner who'd broken Dan Marino's touchdown record. The Colts opted for a younger and stronger Andrew Luck. Don't get me wrong, Luck was a great choice, but he has struggled for the past year and a half while Manning rode off in the sunset hoisting the Lombardi trophy for Denver. Dallas themselves let Demarcus Ware go and have been trying to replace the Super Bowl champ ever since. The Cowboys staff will have to decide what to do once Romo becomes available. 
Cowboys fans believe Romo's return would disturb team's success
Many believe that if Romo played for another team, he'd have a championship. So why give up on that dream just yet? Sportscasters keep giving the same answer to that question: Momentum and Chemistry. Momentum and chemistry are intangible forces that can drive a team into new heights and allow players to reach new gears. Momentum is extremely helpful; that is until you run into an immovable object. Chemistry is invaluable; until one player loses production and you have to rely on others you've never thrown to.
By that notion, if momentum and team chemistry are the reasons the Cowboys don't need Romo, then they don't need Bryant, Scandrick or Tyron Smith, who've all been hurt this season.
This Romo situation is starting to feel like Mark Jackson assembling the Warriors and losing his job only to see the team he crafted win a championship the next year. This Dak situation feels like Tebow-Mania. Well, let me take that back. Dak is in more of a Linsanity bubble. Unlike Tebow, Jeremy Lin is actually a contributor to his team. But, Lin is not the leader of a franchise. There is hope that Prescott pans out, but to anoint him the savior of Dallas is ridiculous. Romo is the reason this team was one game away from the Playoffs year after year. But, when you get to the last game and lose, its all your fault, no matter how you played through a herniated disk in your back the week before (2013 vs. the Redskins). I don't mean to take away from Dak's accomplishments or his abilities. He's played with poise and provides optimism in the face of uncertainty. But, it would be irrational to not harbor some skepticism with handing the franchise keys over to a rookie QB. I've seen this story too many times to go all in. If you don't believe me, just ask Washington how they feel about their former Rookie of the Year Robert Griffin III. #DallasCowboys #TonyRomo