Elizabeth Warren to Trump: 'Nasty women vote too'; watch out
Hillary Clinton says that Warren gets under Trump's 'thin skin'; Clinton not a 'whiner'.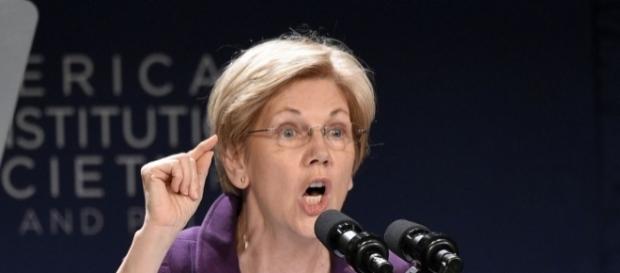 While campaigning in New Hampshire with #Hillary Clinton, Massachusetts Senator Elizabeth Warren bluntly reminded GOP Presidential candidate #Donald Trump that "nasty women vote too." Warren's comment was in response to statements by Trump during the third presidential debate in which he called Clinton a "nasty woman." Trump, whose comments about women have been condemned by Former House Speaker Newt Gingrich, (R), also stated that if he is elected President, that he will sue the women who have alleged that he grabbed, groped and kissed them. Trump's threats were made as part of his statement on what he hopes to accomplish in his first 100 days in office.
'Nasty women are smart'
In her comments, Warren told the assembled audience and reminded Trump that "nasty women are smart." Warren, speaking directly to Trump, promised that the "nasty women" are going to take to the polls with their "nasty feet" and cast their "nasty votes" to get Trump out of their "lives forever."
Trump's Twitter storm
Clinton, who was listening to Warren's remarks, stated that although she was unable to access Twitter from the rally, that she was certain that Trump would be posting multiple tweets in response to Warren's comments about him and the "nasty women." Clinton stated that Trump is unable to resist the urge to take to Twitter and start posting away, mainly because Warren "gets under his skin." Clinton obviously was responding to Trump's most apparent weak point, namely his inability to remain silent in the face of any adversity or any kind of negative comments about him.
His modus operandi is to blame the person who is making accusations against him, or a third party, and then to start tweeting away with all kinds of unfounded, belligerent and downright nasty tweets against anybody and everybody who he considers to be threatening to him and his failing presidential campaign.
Michelle Obama lashes out at Trump
Although Trump has been a sorrowful instigator who lashes out at everybody who dares to utter even a single criticism against him, he has not escaped the wrath of First Lady Michelle Obama. The nation's first African-American First Lady, who has not hesitated to make her opinions known throughout her eight years in this position, told Trump off because of the groping, grabbing and kissing accusations against him by multiple women. Obama emphatically stated: "No woman deserves to be treated this way." And the "nasty women" are not going to forget how Trump treated them on Election Day, not even for one groping second. #2016 Presidential Debate