Donald Trump humiliation at roast -- a foreshadowing of his Election Day defeat
The humiliating tragedy at the Clintion and Trump roast shows that there is a favorite and Donald isn't it.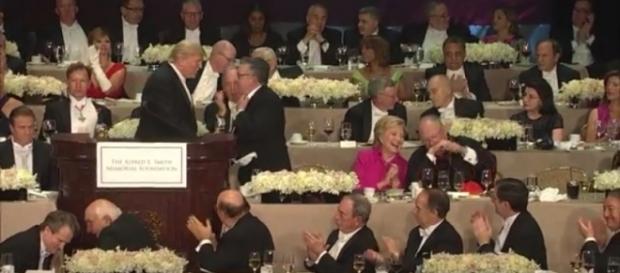 The presidential polls after the 3rd debate still show #Donald Trump lagging behind during the worst presidential race in American history; one would have thought that there would be less torture to endure until Election Day, until someone thought it would be a good idea to invite Donald Trump to a #Roast and allow him to participate, as Blasting News reported, and it should be no surprise to anyone as to how it turned out.
While much has already been reported about the boos Donald Trump received; watching the entire event, one can see when either candidate was overloading their comedic beats starting with Donald Trump missing the mark, or being offensive without someone there to reel him in, causing many to brace themselves for what he might say next; to where Hillary Clinton was perfectly landing too many solid blows where one cannot help but feel sorry for him.
The vulnerable Donald Trump 
Many will remember when Donald Trump was thoroughly roasted by President Obama in 2011 at the annual correspondence dinner. A recent Frontline documentary points out when President Obama humiliated him at the dinner, that that could have been the moment he decided he would show everyone and run for president, forcing Obama to hand him the keys to The White House to get even. Trump's surrogates agreed in the documentary that this was the case. Trump appeared to have the same forced smile at the event that he had with Obama, and now with Hillary Clinton doing the same. And she continued to target him on very touchy issues such as not paying his sub-contractor Kellyanne Conway, to mocking his speech before hers.
Check it out at 1:55 when @POTUS #Humilates @realDonaldTrump @frontlinepbs https://t.co/y7hak4Pbiz pic.twitter.com/dKv9R1Bdrs

— Survival Journalism (@SurvJourno) October 10, 2016
Genuine anger in the room?
Throughout the campaign its been said that both candidates are unlikable, but only one of them has made a deliberate effort to be so, with surrogates and all.
One of them has been former New York mayor Rudy Giuliani, who has incited anger by his own rhetoric on various news shows, and continues to do so relentlessly for Donald Trump. When Hillary Clinton roasted him, there was no acknowledgement from Giuliani, who looked as if he were having a terrible time. Donald Trump's initial attacks on Hillary were in the same tone and style as what he's said during his campaign and even during the recent debates. And much like the debates, Hillary clearly prepared with better jokes while Trump tried to wing it, which was his undoing. Clearly Hillary wouldn't know that Trump would use his time to attack her as he did. But it seems to have worked out since her jokes were consistent and relentless, making the duel even. 
Final comedic blows signal defeat
This is a new Hillary Clinton as she's not known for roasting people. Her debut as Madame President-Comedian, forces undecided Americans to see her personality in a different light. Obviously, she can be vicious but also not as awkward as one might have thought to deliver jokes.
She does have a delivery and style that is very casual and might be the standard format for statesmen or stateswomen to deliver jokes.
Clearly, Donald Trump doesn't have this kind of preparation because he is surrounded by people who don't engage with that sort of crowd. They're more like the awkward bullies who don't fit in. There are similarities with this too where Donald Trump also "opened" for Hillary in August with the convention, which was nothing but a line-up of the angriest, bitter and most disturbed people from reality show stars to has-beens, who have turned out to be terrible human beings. But Hillary Clinton would come out with a convention for her party, packed with serious starpower that are valued a hundred times over, and people with real stories to tell.
Even so, there is still a chance that Donald Trump will win the election, simply because we won't know until Election Day. But if the current trends, polls and overall feeling that Trump is going to lose are true, then his #humiliation at the recent roast is just a clue as to how vicious a defeat Donald Trump is going to endure.