Disney princessess inspire artists and creative minds of all types
Talented, Pakistani anime artist brings even more whimsy to Disney princesses.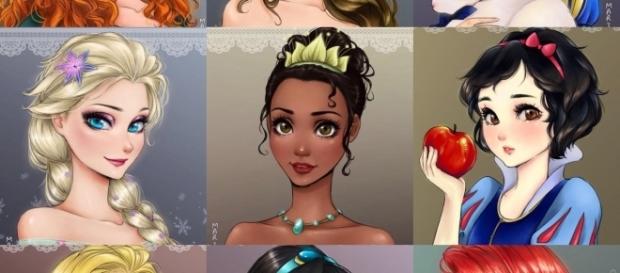 Over the years, many highly creative artists have shared their takes on Disney's famous princesses. Anime and manga artist, #Maryam Safdar, stands apart in her collection of comic worthy images. The 21-year-old Pakistani had dreamed of possessing the skills needed to create drawings of her favorite childhood characters. With time, dedication, Manga Studio, and a little bit of magic, she managed to turn her dream into a reality. Bringing to life some of the most loved Disney characters is no easy feat. Safdar seems to do so with ease. She captured Merida's courage, Snow White's innocence, Rapunzel's curiosity, Tiana's determination, and Alice's wonder.
The piercing blue eyes of Ariel, the rosy cheeks of Mulan, the sultry gaze of Jasmine, and the other-worldly charm of Kida seem to spark off the images. Safdar's creations should, without a doubt, get their own line of merchandise. 
Inspired by Disney
Safdar is not the only extremely talented artist to put his/her own flare on the famed Disney princesses. Jirka Väätäinen was one of the first artists to gain international recognition for his portrayal of Disney princesses in real life. Using real models as guides, he combined the techniques of digital compositing, photo manipulation, and digital painting to make the princesses seem more life-like. Recently, he has expanded his work to also include the Disney villains. Some attempts tend to be more comical than magical, such as the work of Buzzfeed illustrator, Loryn Brantz.
In 2015, she created a sliding image gallery depicting what Disney princesses would look like without makeup. Galleries can be found showing the princesses at their actual ages, face swapping with other characters, and even as men. Alternative ideas include the young ladies depicted with their families, as sexy pinup girls, and also as villains.
What is anime/manga?
Anime is the Japanese art style of hand-drawn and/or computer animation. It is typically used throughout Japan in video games, comic books, film, and television. It has become increasingly popular in the United States since the 1970's. Anime is characterized by its colorful graphics and vibrant characters that usually feature extreme physical traits, such as large eyes, attention-grabbing hair, and almost nonexistent noses. Manga refers to the Japanese comic genre typically utilizing the work of anime artists. How cool would it be if Disney expanded on Safdar's work and created a manga series featuring her stylized princesses? #anime art #Disney characters