Did Hillary Clinton jinx herself and Cubs -- vows 2016 win for her and Chicago team?
Will Hillary Clinton find her winning predictions weren't such a good idea after World Series ends?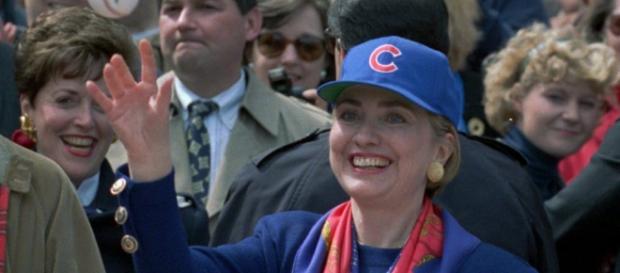 Did #Hillary Clinton jinx the #Chicago Cubs when declaring 2016 would be the year that both the Cubs and she would win? Or did she jinx herself as the Cubs are one game away from losing the series going into Sunday night's game? Now that the dreaded news of an FBI investigation bubbles up, there's some concern it could take her down as she is waning in the polls.
Winning jinxed?
The Chicago Cubs go into Sunday night's game with the possibility of elimination after losing Saturday's night game to the Indians 7-2. The #World Series is won with a best out of 7 games, so if they don't win tonight, they're done. The Cubs have won just one game out of four and game five is tonight on their home turf.
Although you might think they'd have a home advantage, the three other games they lost in the World Series so far were also on their home turf, according to ESPN Sports.
Fair weather fan
According to CNN News Hillary's relationship as a fan of the Chicago Cubs has been "complicated." As a girl her father would take her to the Cubs games, so as she once told a crowd, she was "born a Cubs' fan." Later in life when she moved to New York, she didn't have much choice but to do as the Romans do and root for the Yankees.
Instead of putting her switch of team allegiance in words that would convey this, because it is understandable, she basically put her foot in her mouth. She told the crowd that she is now a Yankees fan because she is also a woman who likes to win and for that reason she went with the Yankees and dropped the Cubs.
This made her a fair-weather Cubs' fan at best.
That look when you cap off a day on the trail by watching the @Cubs cement their trip to the #WorldSeries. #FlyTheW pic.twitter.com/94KMWpKHwe

— Nick Merrill (@NickMerrill) October 23, 2016
While on the campaign trail Hillary Clinton learned of the Cubs' stroke of good luck, putting them in the World Series this year. She started signing Cubs merchandise for fans at all her campaign stops. One piece in particular was a jersey sporting the Cubs name and logo with the number 45 on it. The man who had her sign the jersey said he would wear this for the Cubs to win but also because it was a good luck charm for Clinton to become the 45th president.
Above is a tweet of Clinton watching the first of the World Series games and rumor has it she asked her staff to make time in her schedule for her to watch the Cubs in their series games. Below is a tweet that reports on Hillary deeming 2016 the winning year for both her and the Chicago Cubs.
Hillary Clinton signs a man's custom Cubs jersey and notes that 2016 is the year both will win. cc: @SamRoecker pic.twitter.com/s7AJRPemk0

— Dan Merica (@danmericaCNN) December 22, 2015
Will the Cubs win?
The Cubs still can win tonight, but it seems that their bad luck streak in the World Series started with Hillary donning a Cubs cap once again.
While this theory is based on superstition and old wives tales, this is not the only strange incident when it comes to predicting a presidential election winner. For decades the sales of Halloween masks for presidential candidates has been used as a prediction of the winner. The candidate whose Halloween mask made the most sales, in turn, won the presidential election. This dates all the way back to Nixon, and believe it or not, its been fairly accurate! So far Trump's mask has outsold Hillary's by massive numbers this year, according to the Daily Mail.