Did early voting restrictions in North Carolina hint at effort to suppress voting?
North Carolina showed potential problems in early voting, with Republican-led efforts to suppress voter turn-out for communities that lean Democrat.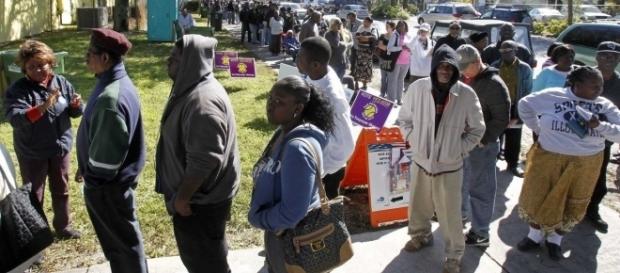 Thursday was the first day of #early voting for the people of #North Carolina. A state that made headlines throughout the year, for starting the transgender bathroom debate for which it is suing the Obama administration over with other conservative leaders and states. North Carolina has also been dueling with the courts about restricting voter access, under the guise that there is rampant voter fraud which is a subject currently making headlines, since Donald Trump has persistently implied that there would be voter fraud and that the election would be rigged, if he doesn't win.
Initially, North Carolina's conservative government tried to impose restrictions on early voting, which a federal court decided disproportionately affected African-Americans who mostly vote Democrat.
Various sources reported that North Carolina voters are flooding the polls in large numbers, but that they've already had problems with wait times. According to one report by "Al-Jazeera", the chairman for the Orange County Republican Party Daniel Ashley -- whose headquarters were firebombed last weekend, says that it's a waste of resources to be so generous with early voting hours. 
North Carolina known for pulling fast ones 
1. I want to provide more detail about what's going on with North Carolina voting than I was in one tweet https://t.co/Q1i7h1iuk5

— Judd Legum (@JuddLegum) October 22, 2016
The report also says that in August, North Carolina's executive director for the Republican Party Dallas Woodhouse emailed the state's Republican board of elections appointees, demanding early voting changes by limiting polling stations in counties that are known to vote Democrat, limit the hours and consider closing polling on Sundays.
The report also points out that the election board is controlled by the state party, which is Republican under Pat McCrory who has already taken unprecedented measures this year against his opposition. McCrory threw out an organization called Progress North Carolina who had scheduled a garden party at his mansion in July, who ended up holding it outside the gates. Also when the NCAA put pressure on the state to do away with the restrictive HB2 law, McCrory's Republican legislature adjusted the language of the bill before a given deadline, but NCAA said it was not enough and they further enraged the Governor when they moved a major event to another state.
North Carolina slashes early voting hours
When Woodhouse's email was leaked, it fired up voting advocacy groups such as Democracy North Carolina and the NAACP, until the board of elections agreed to expand hours. But there are still counties who reduced the amount of polling places significantly since 2012, a report by "NBC News" says that thirteen counties took action.
The wait time for the reported lines was said to been an average of three hours. Currently it appears voters have made an effort to adjust to the voting times, but Daniel Ashley makes it clear that if a person cannot find the time during the 30-days of absentee ballot voting, or 10-days of early voting, then it isn't a priority for those people. 
Republicans make no secret about increasing their odds 
Daniel Ashley also says that the party in power will form their voting rules as a tit-for-tat response to Democrats taking it upon themselves to form their own rules which equally angers #republicans.  One report by "The Daily Banter" takes readers back to when Ted Cruz was running and a interview with Glenn Grothman who is a Republican congressman in Wisconsin, who said what many Republican operatives have also said that Hillary Clinton is a weak candidate and in his words, "the weakest candidate the Democrats have every put up," adding that voter id laws in conservative states would be an advantage to their election win. To add, he also says that those who are voting inappropriately are likely to vote for Democrats, which adds to the idea that voter fraud will be rampant this year. In Hillary Clinton's favor, reports are Wisconsin and North Carolina that communities leaning Democrat have massive turnout, but that Republicans are leading in North Carolina.