Why doesn't Pres. Obama work to calm Charlotte riots?
Pres. Obama and Hillary Clinton go silent as Charlotte's leaders call for an end to violence.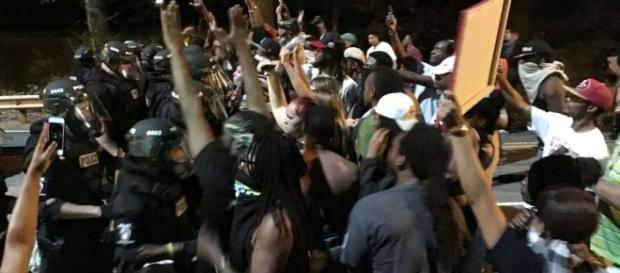 While Barack Obama had no problem squeezing a UN (legacy) speech in between rounds of golf this week, he seems to have lost his voice when it comes to calling for calm in Charlotte, North Carolina. Never has the silence of a president screamed such a hopeless message. As Charlotte prepares for another night of potential violence and riots, Obama and the First Lady are scheduled to join ABC talker Robin Roberts of Good Morning America for a tour of the Smithsonian National Museum of African-American history and culture.
Obama does little to bring calm
The president has been mostly silent as Americans living in Charlotte wonder if and when peace will be restored.
Riots began shortly after a black police officer shot an armed black man who allegedly refused to put down his gun on Tuesday. Although no white person was involved in the shooting, the incident is being characterized in racial terms by groups like Black Lives Matter. Meanwhile, Obama has enjoyed a light schedule including fence mending at the UN and mending fences with world leaders like Benjamin Netanyahu, the Israeli prime minister whom he had little time for over the past eight years.
Charlotte fears more violence as evening approaches 
Back in Charlotte, where protests turned into violent riots and looting after an armed black man was shot and killed by a black police officer, Gov. Pat McCrory declared a state of emergency on Wednesday and deployed the National Guard and State Highway Patrol troopers to assist local officers in containing looters and rioters.
One black man was already killed during the riots, allegedly by another black man. Mr. Obama has not done anything in particular to help the situation and most media outlets have been slow to pick up on the presidents glaring absence in the face of a state of emergency.
Hillary Clinton mum on Charlotte unrest
While Republican presidential candidate Donald Trump has spoke out, Hillary Rodham Clinton's response has been muted at best. Democrats are on edge since they are generally able to take the African-American vote for granted without doing much of anything for the community. Now, with Black Lives Matter organizing the so-called protests and pushing for continued unrest, Democrats running for office, like #Hillary Clinton, are taking a less-said-the-better approach to Charlotte's woes. Mrs. Clinton has condemned police in cases of police shootings but has not taken a strong stand against the chaotic riots and looting in Charlotte and other cities. Clinton is counting on African American voters to sweep her into power during the 2016 elections; however, thus far, the former first lady has not garnered much enthusiasm within that community.
Tear gas and battered police
On Wednesday night, seemingly well-organized protesters and rioters stood their ground against police and volleys of tear gas used to disperse hundreds of them who blocked the intersection of Trade and Tryon streets in the heart of uptown. They ultimately occupied the EpiCentre entertainment complex, destroying police vehicles and property along the way. While most political pundits and mainstream media outlets have remained silent about Obama's silence, further rioting and violence in Charlotte could provoke some comment from the boldest networks and, or, cable stations.
Charlotte's leaders unable to connect
Charlotte's African-American police chief and its Mayor Jennifer Roberts pleaded for calm on Wednesday but were not joined by anyone from the administration. "I'd like to ask people to wait until all information is available," said Roberts after expressing condolence to Scott's family and noting her concern for police officers injured in the riots. It is unclear whether Mr. Obama will take time out from building and molding his legacy during his waning administration to attend to the dangerous societal mess in Charlotte. #Democratic Party #Democrats vs Republicans