Who's afraid of Virginia Woolf anymore?
Pictures meant to laud the legacy of female authors aren't worth the legendary thousand words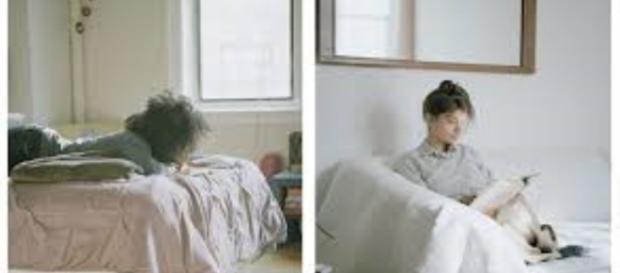 In recognition of the sway that female authors have had on women, photographer Carrie Schneider created a portrait series she calls "Reading Women." What you see are images of inferred book lovers in varying settings, like one figure, curled up with what is said to be Virginia Woolf's novel "To the Lighthouse," the famed narrative about the female experience that Woolf contended was suppressed in conventional fiction.
Missing the mark
But it's not clear in these photographs just what the women are actually looking at. All that's clear is picturesque posing that is no more storytelling than, say, James McNeill Whistler's painting "The Yellow Room," which describes a young woman with her hands behind her head staring into space. 
You may be wondering how any artist – photographer or painter – can clue viewers into what's going on in women's heads, let alone what they're reading.
How, for example, can anyone pictorialize Woolf's ghost-like narrator in "To the Lighthouse" watching time pass? Schneider told the Huffington Post she wanted her pictures to increase awareness of female writers. But her pictures don't make that case.
You had to be there
Yet, there are many ways for visual artists to convey what people in their pictures are thinking or what the artists themselves are thinking. Berthe Morisot's painting of a female pondering a book called "Reader" (La Lecture) 1888), is packed with indicators about the state of women in society and makes a case for feminism when it wasn't even a word. (More about the indicators in a moment).
First, it's important to consider the time that Morisot was painting. Fellow painter Edouard Manet said he pitied her for being a woman and told her the only hope was to marry some "doddering old" traditional painter, so she could sow discord.
(Note: she married Manet's painter-brother Eugene who spent most of his time helping her career). Her brother-in-law had a point. A French decree at the time said women's' responsibilities as a wife and mother debarred professional pursuits.
Female complaint
Morisot made an end run around the no-no by painting members of her family and then lacing the pictures with a ton of hints about the plight of women. On the surface, "Reader" looks to be about a female figure engrossed in a book as she sits on a balcony against a background of greenery. But despite the outdoor setting, the figure is hemmed in by the railed-in space of the balcony and the density of the foliage, around her, including a palm frond hanging over her head. A nearby birdcage reinforces Morisot's point about her time: a woman's space is a closed world.
How closed? When Berthe and her sister Edma were given #Art lessons as children for the purpose of a polite avocation, Berthe took it seriously, which alarmed her art teacher J.B.
Guichard, who warned her mother against such a "catastrophe." If Morisot could manage to express the female experience in a picture of a woman reading at a time when such expressions were restricted, what restricted Schneider? Like her models, she needs to read a book. She might start with a biography of Morisot.   #Android