When reality takes after imaginary places
The built environment has come a long way from the horizontal beam held up by two vertical posts of ancient Greece.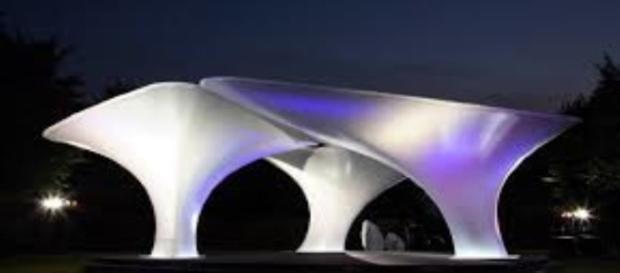 Creating a wonderland
"Beyond Limits" is a fitting title for Sotheby's open-air exhibit at England's Chatsworth House, particularly when it comes to "The Lilas," a sculptural installation by the late architect Zaha Hadid. She was known as the queen of the curve for her sweeping forms and that's what you get here. The Lilas  starts from an all-white trio of structures rising like tree trunks some 18 feet high, which then arc out at the top to form a canopy. Her office describes the structure as three parasols inspired by flower petals and leaves. But that's not all The Lilas brings to mind.
Fantasy land
Hadid died in March and if she were still with us, this column would ask her if she were a devotee of literature's great imaginary places, fantasies like "Lilar," which Johann Friedrich Richter described in 1803 as the principality of Hohenflies.
Richter called it a pleasure garden filled with oak, fir, poplar and fruit trees. Also in the garden were buildings like the Temple of Dream with floor-to-ceiling windows framed by twigs and leaves resembling a forest clearing rather than a man-made building. Visualizing the Temple of Dreams is a way of picturing Hadid's canopy of flower petals and leaves.
Tottenhotand
If not the land of Lilar, one wonders if Hadid was a fan of "The Patchwork Girl of Oz," 1913, L. Frank Baum's imaginary place of Tottenhotland. The Lilas neatly coincides with Baum's portrayal of Tottenhotland, which was a sandy desert on the edge of the Quodling County of Oz. The only plants there are palm trees that rise over homes of the Tottenhot house with their fronds vaulting the air like Hadid's parasols.
Castle in the air
And if none of those phantasms moved Hadid, perhaps the look of Kravonnia in Antony Hope Hawkins 1906 tale "Sophy of Kravonkia" gave her the idea for The Lilas.
Kravonnia was an ancient European kingdom featuring the Praslock Castle - family home of Prince Sergius of Slavna. The castle boasted a vaulted courtyard and Hadid's Lilas flares like that, like the thrust of an arched vault with petals spreading like acanthus.
Land's end
Maybe the fact that the Sotheby's London show is taking place in the historic garden of an ancestral seat, that of the Duke and Duchess of Devonshire, is what makes one think of all those colorful names in the imaginary places of old fiction. Some of Hadid's other projects also bear romantic names, like the Heydar Alivyev Center, a cultural hub in Baku in Baku, Azerbaijan on the Caspian Sea. The Center's sharp curve iooping up in the middle gives the impression that if unbent, it would spread out to span the East and the West. And because Hadid's work spans the globe, one can't help picturing all the flights of fancy described by Richter, Baum and Hawkings on her nightstand. This column also is left to wonder if Hadid knew Sanskrit because the word Lila is translated in that language as creative play. #Art