Trump takes $20,000 from his phony charity for a painting of himself
Bankrupt real estate mogul takes private donations for his foundations from others for distribution to charities; never uses own money.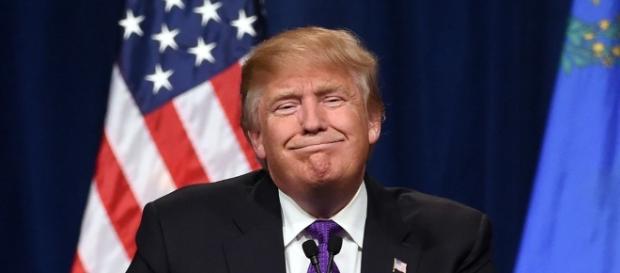 If only because he is narcissistic, self-absorbed, misogynistic and pathetic, Republican presidential nominee Donald Trump could not resist the opportunity to purchase a painting of himself. The painting, which is six feet tall and seems to portray a much younger version of "the Donald," sold for $20,000 to none other than Trump himself. Apparently, vanity could not be put aside, even for a presidential campaign.
Trump's charitable contributions
Although he will not release his tax records, "the Donald" claims that he has donated "millions of dollars" to charity in his lifetime. However, to date, no evidence that Trump ever dug into his own, personal funds has emerged.
A researcher for the Washington Post, David Farenthood, said that it appears that Trump took money from donors to his Trump Foundation and then distributed the money to his charities. Trump also distributed some of the money to other charitable foundations and to various political campaigns. However, he apparently never used any of his own, personal money or reserves.
IRS laws were broken
According to Farenthood, Trump broke IRS laws and regulations when he failed to keep "accurate paperwork" for the donations from his "charitable" foundation. Farenthood pointed out that in five different cases, charities to which Trump had claimed he had donated money stated that they "never received" the funds in question. Not only that, but in two cases, the companies that Trump claimed donated money to his foundation did not even exist at all.
A hand in the cookie jar
According to Farenthood, Trump occasionally dips into his foundation's funds for personal expenses, such as the $20,000 purchase of the six foot painting of himself. He also allegedly took $150,000 in government funds for the re-building of New York City businesses that got destroyed in the 9-11 attack but did not use the money for those businesses at all.
Bribing a state attorney general?
Trump also is suspected of bribing New York State Attorney General Pam Bondi to call an abrupt halt to her investigation of his controversial and much rebuked Trump University. The donation, which allegedly was disguised as a legitimate campaign contribution for Bondi's reelection campaign, was for a hefty $25,000. Former Trump University students claim to have been cheated and defrauded and have filed multiple lawsuits and criminal complaints. The ramifications of this are horrendous, especially for a presidential candidate. It does cause one to remember the bribery accusations against Vice-president Spiro Agnew that resulted in his resignation in 1973.
Shooting Syrians "out of the water"
Meanwhile, Trump has promised to "shoot" Syria's "little boats" "out of the water" if any Syrians make an improper gesture towards America's "beautiful destroyers." Trump made this assertion in spite of the fact that this would be an "act of war" on the part of the United States. Trump never enlisted in the military and apparently he has little to no understanding of how serious the ramifications of war are for those involved and their families. Either that, or Trump simply does not care. As this observer sees it, the latter is the case. As stated previously, Trump is so narcissistic and completely self-absorbed that nobody else's life means anything to him.
Get off it, Donald
As vain, conceited and boisterous as he is, Trump is claiming that he would have supported the Republican nominee if it had turned out to be anyone other than himself. If anybody believes that, let them "speak now or forever hold their peace."