The final White House Tribal Nations Conference: US domestic vs international legal norms
The United Nations Declaration on the Rights of Indigenous Peoples vs US domestic Indian law and policy at the WHTNC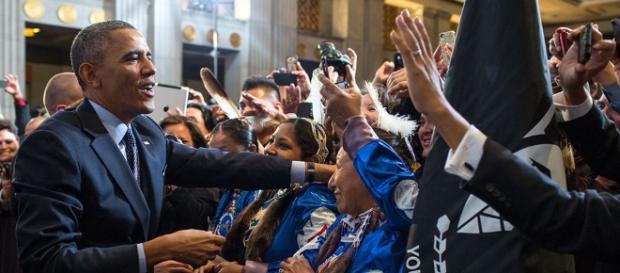 "Native News Online" reports the beginning of the final White House Tribal Nations Conference (WHTNC). The WHTNC is said to provide a forum for what is termed "meaningful consultation" between the US #Government and the indigenous nations within its claimed territorial boundaries. "Meaningful consultation" has also been used by the US government in response to massive indigenous popular opposition the Dakota Access pipeline. One of the many injustices committed during pipeline construction was the deliberate destruction of Lakota historical, cultural and sacred sites to prevent their identification. The destruction came shortly after Lakota cultural expert Tim Mentz identified the sites and the Oceti Sakowin (Sioux Nation) filed an injunction to halt construction in what should have been an historically protected area.
Interestingly, the reported WHTNC agenda includes Reinforcing the National Historic Preservation Act and Self-Determination.
Historic preservation and UNDRIP
The Advisory Council on Historic Preservation (ACHP) will present on section 106 of the National Historic Preservation Act that presumably allows the use of indigenous rather than US definitions of sites of historic and cultural significance. What is interesting however, is the ACHP intention to discuss what it terms the "linkages" between the United Nations Declaration on the Rights of Indigenous Peoples (UNDRIP) and historic preservation issues. ACHP intends to present on its intention of "working with" the UNDRIP on indigenous historic preservation issues. In 2010 President #Obama finally signed the UNDRIP, making the United States among the last countries to do so.
The UNDRIP is an international legal instrument, by signing it the executive gave the legal assent of the United States to its terms. Immediately the US State Department asserted US peremptory legal norms to weaken UNDRIP. ACHP speaks of "linkages" between UNDRIP and historic preservation issues.But UNDRIP specifically requires the preservation of indigenous cultural sites. In addition, ACHP says it will "work with" UNDRIP, rather than what the US should be doing; legally implementing UNDRIP at all levels of government. Implementation is is very different from simply "working with" a legal document. It will be interesting to see what the US has to say about indigenous self-determination in the context of historic preservation.
Self-determination vs self-administration
The US is also a signatory to the International Covenant on Civil and Political Rights which asserts that all peoples have the right to self determination. Meaning the freedom to pursue their political, economic and cultural futures.
A right consistently denied indigenous peoples by sovereign Westphalian states including the US. The late Oglala Lakota leader Russell Means once characterized the self-determination recognized by the US for indigenous peoples as little more than self-administration. One can see this clearly in calls for "meaningful consultation" with indigenous peoples versus the UNDRIP's requirement of free, prior and informed consent from indigenous peoples. Also, the insistence of the US that indigenous opponents to Dakota Access are to "work within the existing statutory framework" of US domestic law and policy, rather than asserting our rights as indigenous peoples and nations under international law. Also included in WHTNC's reported agenda will be an Interagency Trauma Initiative. One wonders if the trauma initiative will be addressing the trauma presently inflicted upon indigenous peoples through the construction of the Dakota Access pipeline. The police brutality and the police state that has been created to defend the private interests of Dakota Access LLC over that of the citizens of the Oceti Sakowin (Sioux Nation). So long as Dakota Access remains a reality, US claims of supporting indigenous self-determination cannot be taken seriously. #Environment