Sen. Marco Rubio better positioned than Patrick Murphy to represent Florida
Murphy is rich, but that is all that stands out about him. Rubio would serve Florida in the majority party where he might make a real difference.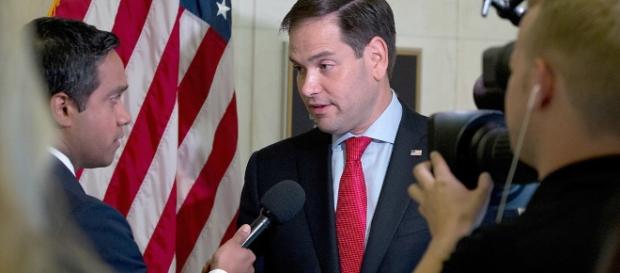 Florida's U.S. Senate race is between a Republican sitting senator whose record of skipping work did him in as a presidential candidate, and a 30-year-old Democrat whose very rich daddy had to buy him companies so that he could take credit for being a small business owner.
Marco Rubio is real, Murphy, not so much
The former, Marco Rubio, can at least say he has held a job for years not months, even if his workdays became few and far between after he decided to run for president last year. The latter, Patrick Murphy, is the son of a wealthy builder of super-luxurious mansions. Murphy's father, Thomas, even bought him a CPA firm where Patrick never worked as a CPA even though he claims he did.
Truth is, Murphy is not licensed to work as a CPA in Florida at all, and never has been. Murphy's father bought the small CPA firm and installed his son as an executive before Patrick claimed he owned it and ran it, all the while touting his experience as a CPA on the campaign trail in 2012 when he unseated Republican Allen West.
Murphy has aversion to truth
"I believe that my background as a CPA and a small business owner is exactly what we need to put our country back on track," said Murphy. A couple years later while running for reelection, Murphy continued to suggest his "background as a CPA" was what qualified him to be a Florida representative. Truth is, the Democrat has no background or license as a CPA in Florida, according to the Tampa Bay Times.  In a nutshell, Murphy was installed by his father as an executive officer in two companies, the CPA firm and a company by the name of Coastal Environment, that he claimed to own even though his father purchased them and he only worked at them for a short time.
Meanwhile, daddy Thomas has contributed well over $1 million to various political PACs supporting his boy, which means his father also bought him the house representatives. Murphy is only as good as his father's money.
Rubio missed votes
As mentioned, Rubio did himself no political favors by missing more Senate votes this year than golf tournaments missed by Tiger Woods. Nevertheless, Rubio could not and did not attempt to fake his bad voting record. Indeed, he was quite busy campaigning for the presidency and virtually gave up his Senate seat when he said he would not run for reelection. However, Donald Trump brought Rubio's presidential bid to a quick end and "Little Marco" decided being a senator was not such a bad deal after all.
Rubio poised to make a real difference
Now, with the 2016 elections close at hand, Floridians have to choose between another Democrat with an aversion to truth who is bankrolled by his rich father or a sitting senator who can potentially make things happen for the state should Republicans retain control of the Senate.
The choice is clear. To Patrick, being a senator is something his father can well afford to buy for him. To Rubio, the Senate is a very real opportunity to reshape his image and make a difference for Floridians. that is if he puts in the time and effort. Floridians can roll the dice on Murphy, or choose Rubio, who is better positioned to represent the state.