Minority Leader Harry Reid hopes to block Zika funding and force government shutdown
Reid, whose time in Senate is all but over, hopes to shut down the government and block Zika funding.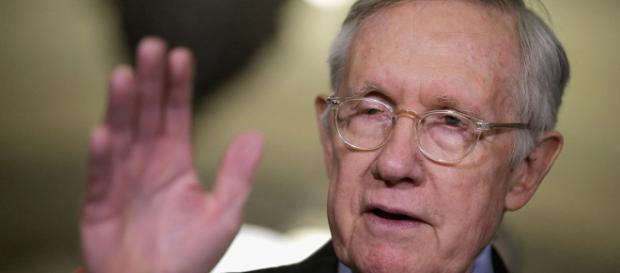 Democrats in the U.S. Senate are playing Russian roulette with unborn children and women by rejecting a stopgap government funding bill today. Typically, liberal journalists and mainstream media have joined forces with Democrats to blame Republicans for government shutdowns. This time around, Democrats are more vulnerable as they are seen by many as risking the lives of children for political show.
Reid presided over government shutdowns in past
Minority leader #harry reid, who has formally resigned effective the end of his term, is leading the fight to reject funding for the Republican bill that contains funding to combat Zika.
The increasingly unpopular Reid - who oversaw the partisan jamming of Obamacare down the collective throats of Americans and minority Republicans back in 2010 -- is once again on the wrong side.
Republicans trying to pass legislation to fund Zika and aid flood victims
Republicans for their part, have been trying to pass the stopgap funding bill to get the country through the final quarter of an obstinate Obama administration that thrives on vetoing such legislation. Democrats are trying to add legislation to further fund Flint, Michigan, a Democratic-controlled region that has allowed its residents to drink tainted water until recently.
Earlier this year Democrats had agreed with Republicans that senators should brush aside election-year chaos and use "regular order" to fund the government by passing all 12 annual appropriations bills ahead of the Sept.
30 deadline.
Democrats hope for political gain; worry about potential losses
However, Republicans, including the governor of Missouri, were working with Democrats to resolve Flint's water issues long before Zika -- spread by mosquito bites -- became an emergency in Florida. For his part, Pres. Obama, for a long time, would not approve federal funding to combat Zika even though he provided $1.7 billion to Iran's Ayatollahs to fund terrorism and upgrade their military. The media, for the most part, attempted to blame Republicans for Obama's inaction (even the Senate was not in session at the time). Now, with Republicans trying to fund the fight against Zika, Democrats are on the defensive trying to forestall the legislation in the Senate. Adding to Democrat's woes, their attempt to shut down the government on the eve of the elections could cause voter frustration to spill over. Most current polls show the Republicans retaining control of the Senate come November 8, and the race for the White House between Donald Trump and former Secretary of State Hillary Clinton is about even.
Republican-led legislation includes over $1 billion to combat Zika
The bill that Democrats hope to block contains roughly $1.1 billion to fight Zika and millions more designated to assist flood victims in Louisiana, West Virginia and Maryland. With nothing personal at stake, Minority Leader Harry hopes that by forcing a #government shutdown Democrats will gain sympathy over the already being worked on Flint water situation. Opponents say, despite a complicit liberal mainstream media supporting Democrats, Reid's attempt to shut down the government will fail and cost Democrats an opportunity to pick up Senate seats. #Democrats vs Republicans