Labour's Jeremy Corbyn: why does he attract young voters?
Critics mock Corbyn's idealism, but ignore the reasons why young people are attracted to a political 'outsider'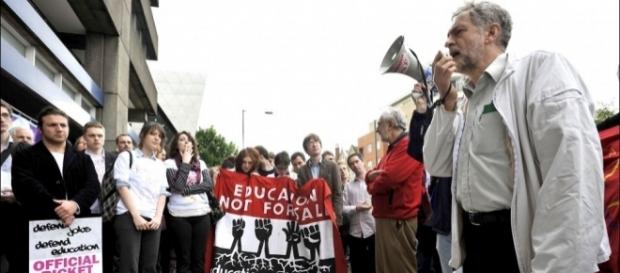 It has been a tough year for Labour. After a failed general election, a heavily criticised Remain campaign and an unsuccessful coup against current leader Jeremy Corbyn, the party's existential crisis is interfering with Labour's founding principle: to support and provide a voice for the working people. Despite Corbyn's questionable leadership qualities, he has attracted dedicated, young, working class supporters and his critics need to understand why.
The rise of radical politics
To the sleek politicians at Westminster, Corbyn's dishevelled, jam-making, socialist ways are "improper" and "uncharismatic", but to some Labour supporters he is a man with humility and more importantly, represents change within politics.
According to a study carried out by Ipsos MORI in 2015, "just 16% of Britons trust politicians, to tell the truth." The results show an increased level of cynicism, with a 2% decrease from the original study conducted in 2011.  
It has become clear that the general public are rejecting 'conventional politicians', who are now associated with deceit, inauthenticity and trickery. They are drawn to a politician who will disrupt the current system. In fact, Corbyn's first act as Labour leader was a blatant attempt at defying the status quo. During his first Prime Minister Questions, he introduced the idea of open-source democracy, bringing in a list of crowd sourced questions to ask David Cameron. This style of interactive politics was able to involve a diverse audience and the youth was able to get involved in an exclusive debate.
His young supporters were quick to purchase posters with the quote: "I've voted for a new kind of politics" and the party saw an increase of 40,000 new members.
A reaction to spending cuts and austerity
The working class have suffered the most under the conservative #Government, particularly young people from disadvantaged backgrounds. A survey from The Money Advice Trust found that "just over half [of 18 to 24 year olds] said they regularly worried about money, with 32% feeling their debts were a 'heavy burden.'" The average debt accumulated by a student is £25,505; for young people struggling with large amounts of debt, social mobility seems almost impossible.  
Jeremy Corbyn is able to connect with students on a personal level and acknowledges the emotional effects debt has on young people - he has even issued a public apology. In an interview with The Huffington Post he said, "I want to apologise on behalf of the Labour party to the last generation of students for the imposition of fees, top-up fees and the replacement of grants with loans by previous Labour governments.
I opposed those changes at the time – as did many others- and now we have a have an opportunity to change course." This is a stark contrast to Universities minister Jo Johnson's plan to increase tuition fees to £9,250.
Critics mock his idealism
Critics have been quick to mock Corbyn's idealism, which only strengthens his association with the neglected youth. He has been called a "religious leader", an "anarchist" and "useless." From Sky's Eamonn Holmes comment that the leader appears like he wants "to hug everyone", to Financial Times Journalist Sebastian Payne's suggestion that Corbyn must think the National Investment Bank is "Labour's magic money tree", the politician is presented as an underdog. This attracts young supporters, who view him as a politician they can finally relate to.
 A good example is when Corbyn recorded a video sitting on the ground of a Virgin train claiming that it was overcrowded and uses the situation to campaign for the renationalisation of the railways. Soon after, Sir Richard Branson released CCTV footage that shows Corbyn walking by empty seats. Campaigner, Sam Tarry, reportedly told a rally in Newham that Mr Branson's actions show that "the establishment are absolutely petrified of what this campaign is about."