Jeb shows up on Emmy night as an Uber driver
RNC Chairman Reince Priebus' thinly veiled threat isn't working on this Republican politician.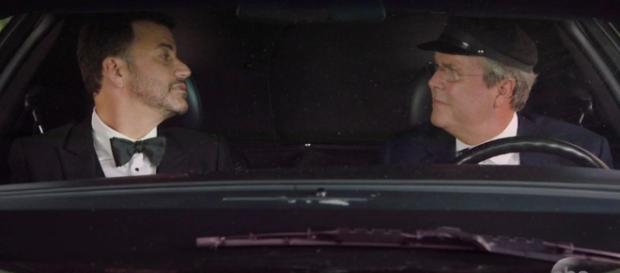 So what if you never work in this town again. Who cares? Well, former 2016 GOP presidential candidate Jeb Bush seemed unconcerned enough to go out and choose another career. Well, kind of. Bush sent shockwaves after being spotted performing a surprisingly hilarious sketch with Emmy host Jimmy Kimmel, who was trying to hitch a ride to the event. In the sketch, Kimmel gets kicked out of James Corden's car after his carpool karaoke was deemed not up to par. Although the late-night host was refused a ride with Selina Meyers, "Veep's" Julia Louis-Dreyfus, Kimmel did receive a little help. The limo driver informed him there was room up front in another car.
Kimmel jumps inside the car and lo and behold, it is none other than Jeb Bush sitting behind the steering wheel. Bush pointed out to Kimmel that you could earn $12 an hour driving for Uber. He asks Kimmel if he had been nominated for an award at the Emmy event. Kimmel replies, "Yes." With child-like wonderment, Bush asks, "Wow. What's that like?" Bush offers some reassurance by telling Kimmel if ran a positive campaign, voters will eventually make the right decision. Kimmel soon gets kicked out of the car for not appreciating the Florida statesman's sarcasm. Bush gave a nod to his campaign logo by yelling "Jeb Exclamation Point" as he sped away like a bat out of the primaries. Good stuff. Who knew ole Jeb could bring on the funny?
Take this job and shove it
Even though the sketch was actually taped in Coral Cables, Florida last Sunday, Reince Preibus had a little speaking engagement of his own on yesterday.
The Republican National Committee Chairman told CBS' "Face the Nation" that the former primary challengers needed to get behind and support their nominee, Donald Trump. When asked if otherwise there would be penalties, Priebus said nothing had been decided yet but it was something to be looked into. Priebus went on further to insinuate that it was not going to be easy for those looking to run again in 2020 or 2024.
Voter and now party intimidation to contend with
This probably explains a lot in the way of aspirations for folk like Ben Carson and Governor Christie, who quickly backed the nominee. Many people could not understand how the two of them could so easily and readily get behind Trump, who took every potshot chance to humiliate them publicly. It would be a shame for the GOP party to go down as the party of bullying and threats. It would be a shame for men to not stand up for dignity or the principals they claim to uphold so high and teach their children.