Iranian cleric calls for Saudi king's removal as custodian of holy shrine in Mecca
The Shia Sunni divide has grown with all around sectarian conflict and now a call is given to remove the Saudi royal family as custodian of Mecca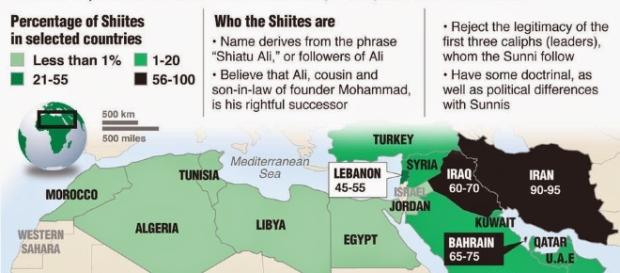 When people in America talk about Islam, not many know that Islam has two major sects - the Shia and Sunni sects. Both have some fundamental differences though they worship via the same holy book, the Koran and the shrine at Mecca. Most of the militancy is by the Sunni Islamists also called Whabbis who feel their Islam is pure and others including Shias should be wiped out. Most of the terrorist organizations like Daesh, #ISIS, Hizbul e Mujahaddin and Hamas are all Sunni and have started carnage against the non-Muslims and the Shias as well. 
Saudi-Iran rivalry
The major protagonist of Sunni Islam is Saudi Arabia while Shia is Iranian and the daggers are drawn.
Both are fighting a proxy war in Iraq,Yemen as well as Syria. Saudi Arabia is the  world most obscurantist regime which denies all rights to its women, yet is supported by the USA. Iran is also a fanatic state, but in some respects is more liberal than Saudi Arabia. It is in the Russian orbit and vehemently anti-America.
The Saudi Royal dynasty is the custodian of the Muslim holy shrines at Mecca and Medina. These shrines are of vital importance to the Muslim world( both Shia and Sunni) and its mandatory for a Muslim to pay his respects at Mecca at least once in his lifetime and this is called the Haj. Iranians and the Shias also visit Mecca for Haj. 
The Shrine at Mecca has however been rocked by terror attacks as well as large scale stampedes and hundreds have been killed. These seem to happen with alarming frequency.
Last Haj season 769 Muslim pilgrims were killed in a stampede, many of who were Iranians.
The future
The Iranian cleric Ayatollah Khamenei has given a call that the holy shrines be freed from the clutches of the Royal dynasty of Saudi Arabia. He wants the shrines to be 'liberated'. This rhetoric from Iran increased after the Saudi's executed a Shia cleric in January this year. He was accused of treason. It may be noted that it's only since 1986 that every Saudi King has been called the custodian of the holy shrines. As per Ayatollah Javed Amoli, it is clear that the present house of Saudi Arabia is the descendant of those who have turned the shrine into a house of idols and themselves indulge in a drunken rivalry. The Shia - Sunni divide is complete and it's not good for the world and in particular for the #Middle East #Religion