Indian special forces cross LOC in Pakistan-occupied Kashmir in a surgical operation
An attack by the army with night vision and helicopter support raided 3 Pakistani camps for terrorists, killing 38.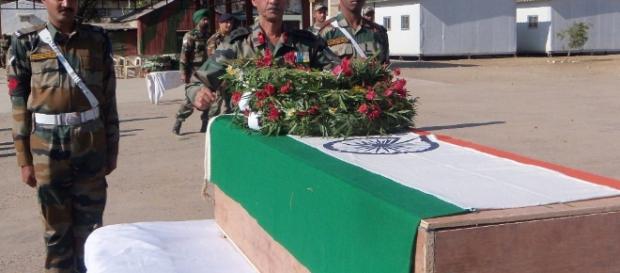 A few days back Pakistan-based terrorists infiltrated across the LOC (Line of Control) in Kashmir and mounted an attack on the brigade HQs at Uri, close to the LOC. 19 Indian soldiers were killed in the attack before the 4 terrorists were neutralized. Narendra Modi had vowed revenge and in speeches had indicated that the blood of the 19 Indian soldiers killed in cold blood would not be forgotten. The Director General of Military operations at Army HQs had indicated that the Indian army will respond at a time and place of its choosing. The news is reported by the Hindustan times and First Post in their editions of 29 September 2016
The surgical operation
Pakistan leadership committed a fatal mistake in underestimating the resolve of Narendra Modi and the present BJP government.
They never expected the Indian army to cross the LOC and mount a surgical strike on terror camps located at 3 places across the LOC. This never happened after 1971 when the Indian army had operated inside East Pakistan along with the Mukti Bahini. Earlier Indian governments had pussyfooted Indian response. This time, it was different and Modi ordered a surgical strike.
Special forces of the Indian army had credible information of 3 training camps for terrorists across the LOC in Pakistan-occupied Kashmir. The forces began the assault at 0030 and in 4 hours had killed 38 terrorists. No Indian soldier was killed. The Pakistan army is stunned and they have come out with a muted statement that no attack took place and it was only a border firing incident. One can sympathize with the Pakistan military political establishment for an admission that such a raid took place is bad publicity for the Pakistan army, which literally was caught with its pants down, like the US raid on the residence of Osama bin Laden.
The future
The surgical raid was mounted directly by Western Command. To get an idea of the size of the western command one must be aware of its troop levels (4 times the size of the entire British army). The Indians also used drones to monitor the firefight and first reports indicate that close to 40 terrorists were killed.
The Pakistan prime minister is stunned and has called for a meeting of the cabinet. There is an element of denial and an attack cannot be ruled out. The Indian army and Airforce are now on alert  and it's about time the Pakistan government realized that Narendra Modi is not like previous Indian leaders. He is different and he means every word he says. #Terrorism #India