If it's Tuesday, this must be Belgium
Francesco Clemente's approach to painting is like the 1969 film comedy of a hasty sightseeing tour – slapdash and superficial.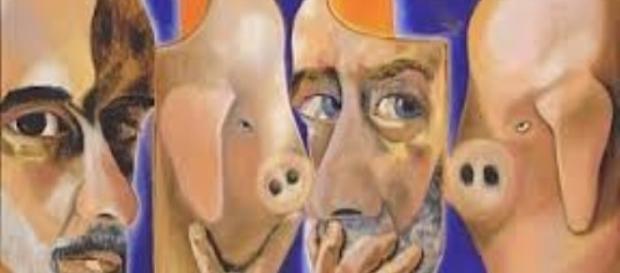 Variety isn't always the spice of life
Its been a little more than 30 years since an exhibit of contemporary Italian painter Francesco Clemente's sundry-style startled visitors at Florida's Ringling Museum accustomed to old-as-history #Art rooted mostly in the 17th century. Compared to Ringling's back-numbers like the prescriptive imagery of Peter Paul Rubens, Clemente's picture-making came off like a style supermarket. His all-over-the-map approach to painting paralleled his lifestyle. A ceaseless voyager moving between New York, Europe and India, Clemente has said that he didn't like to stay in one place. And so it goes with his work.
Museums have some explaining to do  
Despite his faddy flitting, Clemente's work has enjoyed international acclaim with shows in museums, like the Art Institute of Chicago, the Philadelphia Museum of Art, the Royal Academy of the Arts, London, the Pompidou Center, Paris, the Metropolitan Museum of Art, New York the Solomon R.
Guggenheim Museum in New York and the Guggenheim Bilbao in Spain. And to this reviewer, it's not clear why.
More of the same in spades
Now, these 30-some years later, Clemente is seen still switching genres. Exhibiting at the Jablonka Maruani Mercier Gallery in Belgium are displays within displays of a portrait painting series of top models, a series about the talismans used in India to aid fertility, and a watercolor series that goes under the title "Making Love in a Fleeting World (painted in St. Bart's)." As the exhibit literature describes it, the series offers views of multiple Kama sutra positions. Perhaps the most conservative way to report what you can expect to see is to hurriedly relate the goings-on in the one painting that the gallery is promoting: a couple performing oral sex on each other simultaneously.
The critics have their say
All the acclaim aside, Clemente hasn't gone without brickbats from critics, both for the style-switching and a preoccupation with sex. About the varied vogues, Robert Hughes called his painting variously an "inflated presentation" and a "visual avalanche." Gian Carlo Politi diagnosed it as a "psychological aggressiveness that amounted to brainwashing." Donald Kuspit seemed to excuse his overproduction as his war against "know-it-all bourgeoisie," whatever that means. As for the prurience in Clements's work, David Bourdon slammed it as "oversexed," Edit de Ak as "lechery," and Hughes as "sexual grotesqueries." And of one image in particular, Hughes added that it'd be hard to find a sillier painting than the one of a green whirlpool with a man and his separated genitals disappearing into it.
The devil made me do it
Clemente explained that most of his paintings grow out of the written word. On his reading list is Ezra Pound, famed for writing, Go to practical people-Go! Jangle their doorbells! Ruffle skirts of prudes, Dance and make people blush, Dance the dance of the phallus.
Another favorite author is William Blake, known for lauding painters who see truth as bad taste. In that case, when it comes to Clemente's work, truth is staring at us in the face.