Hillary Clinton and Jed Bartlett
The cast of The West Wing is campaigning for Clinton- why they can't put her in the real West Wing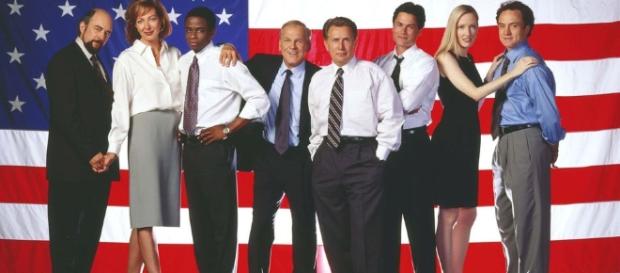 Hillary Clinton, it's been noted widely in such places as the Washington Post, enjoys the support, or at least not the opposition, of every living former president of the United States. There's her own husband, Barack Obama and Jimmy Carter, of course. George H.W. Bush has reportedly told people he will vote for her. George W. Bush hasn't, but it's fair to say he's not a Trump supporter. And now, the Democratic candidate has been endorsed by several members of a different Democratic presidential administration: That of a fictional one, Jed Bartlet.
24 Hours in America
Yes, a group of cast members from the 1990s political series "The West Wing" will be campaigning in Ohio for Hillary Clinton. The six actors- Richard Schiff (Toby Ziegler), Allison Janney (C.J.
Gregg), Bradley Whitford (Josh Lyman), Dulé Hill (Charlie Young), Joshua Malina (Will Bailey), and Mary McCormack (Kate Harper) will appear at grassroots organizing events throughout the Buckeye State this weekend.
Not included in the tour is President Bartlet himself, Martin Sheen, although Sheen has said that he supports Clinton, and participated in this week's anti-Trump "Save the Day" video- and the character's creator, Aaron Sorkin, said in an interview earlier this week that Bartlet would support Clinton. You know, if he were real.
Sorkin World isn't the real world
I'm not so convinced that the "West Wing" Ohio tour will make much of a difference this fall- and not only because Bartlet really did something Clinton is falsely accused of doing: Concealing a major illness while running for president.
That's because, while "The West Wing" was a huge influence on a whole generation of young liberals, it's not really a show for swing voters.
There's probably not a voter alive who would be persuaded to vote for Hillary Clinton by the cast of "The West Wing." As for the younger, Sanders-supporting Millennials who Clinton needs to reach, most of them are too young to have The West Wing, which went off the air in 2005, to mean anything to them.
I loved "The West Wing."  It was a show about politics that actually approached the subject matter with idealism, as opposed to the cynicism that's the order of the day with "House of Cards", "Veep" or "Scandal." But that doesn't mean that it can move politics in the year 2016.