George H. W. Bush plans to vote for Hillary Clinton
Donald Trump is not the only one who can deliver a subliminal messages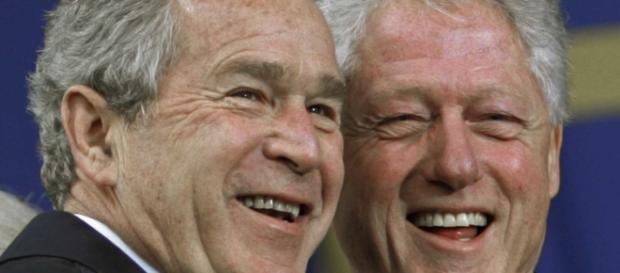 Whoa! The enemy of my enemy is now my friend? Several major news outlets such as  Good Morning America and Politico are reporting that former Republican President and Bush family patriarch, George H. W. Bush, will be casting his vote for the democratic nominee, Hillary Clinton this November. The news comes fresh on the heels of RNC Chairman Reince Priebus' threat to GOP politicians who wish to have the future need to stick by their nominee, #Donald Trump.
Clearly, at age 92 and in the frail health of late, George H.W. has no political ambitions but still exhibits a mind of his own. It seems that said mind is not believing in a nominee who touts himself as being omnipresent with the ability to handle all things at all times despite his inexperience.
Assumingly, Bush does not favor having a leader who provokes division either.  According to a Facebook post by Kathleen Kennedy Townsend, former Maryland lieutenant governor and daughter of the late Robert F. Kennedy, "The President told me he's voting for Hillary!"
A tale of two political dynasties
No stranger to politics, Kennedy said in a telephone interview with Politico that she met with former President Bush in Maine where he personally told her who he plans to vote for. Previously, a spokesperson for Bush told ABC News that the former president was now a private citizen and his vote will be as such - private. The spokesman went to say that Bush would not be commenting on the presidential race. Well, that cat is now out of the bag.
There may be weeping and gnashing of teeth on this one
Oh, the public may never know all the whispers of disappointment and anger about this.
Never mind the fact we have heard the distaste coming from Barbara Bush regarding their party's nominee. But rest assured there is talk behind chamber doors and within the sanctity of plush government offices.
There will be talk even though this news may not come as any real surprise. Nevertheless, there is something to be said when a man who is deeply respected announces that he prefers to vote for the wife of his former opponent rather than vote for the nominee of his own party. It speaks volumes but is anyone listening? #Election 2016 #Democrats vs Republicans