El Cajon protests; Zimbabwean tells people to bring weaponry, arsenals and start a riot
Black Amerians have the right to protest peacefully; it gets out of hand when social reporters encourage violence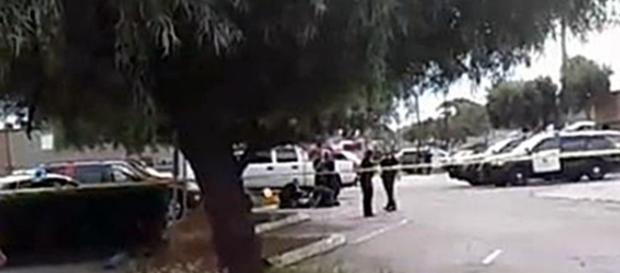 Following the shooting in El Cajon of Alfred Olango by Police, people gathered to shout at the Police and begin a protest. The man, according to AP was a Ugandan that the Immigration authorities had attempted to deport from the USA twice. The Police said in a statement that the man pointed a vape at them. The stance of the man was aggressive and looked very much like he was crouching in a shooting stance to open fire. Nevertheless, whenever people die, no matter what their race, it is regrettable. 
The woman was at scene while Police investigated
Soon after the shooting, while Police were at the incident scene, a crowd gathered to heckle them.
Among them was a self-confessed woman from Zimbabwe. This person of Zimbabwean descent had a lot to say about the "violence" by the Police on Black Americans as she live-streamed to Facebook and YouTube. She had a lot to say about a Ugandan who died. Since then the protest has gathered momentum. "It's time to start riots or something," she said in her Facebook video.
The protest gathering went from heckling and baiting the Police to blocking traffic under an overpass. Later, NBC San Diego reported that they had caused a temporary "closure of the Parkway Plaza." CBS 8 later ran a report of the protesters throwing bottles at the Police and clashing with  motorists. Police advised motorists to stay away from the area around Broadway.
Calling for weaponry
The USA is a tinderbox for violent protest at moment, and many Black Americans have issues with shooting incidents, but the USA certainly should not tolerate foreigners or immigrants calling for arms to shoot at the Police.
In her video, the woman who is identified as Ms. Mubaiwa said, "So, I'm saying, is there anybody out there...anybody with some weaponry or arsenal y'all need to come down and help us 'niggers' out. Those of you with arsenals and stuff, will you holler at me personally, cos I need some shit too and I am damned if I am going f**k around to be shot. I need to be able to shoot back."
The social reporter said she is from Zimbabwe
Later, the woman spoke in the local Zimbabwean language - Shona, before introducing herself to someone else, saying she was from Zimbabwe. Her name is Zimbabwean. Her Facebook page shows that she was born in Zimbabwe, but was educated at Mark Twain High School in San Diego. Possibly she immigrated there with her family and might very well even be a naturalized citizen. 
With the violence of the Zimbabwe Republic Police, who are currently involved in beating, abductions and torture of arrested citizens protesting for change in the country, one would think that perhaps she would be focussed on those police brutality issues before worrying about her adopted country. 
Immigrants and integration
Donald Trump specifically mentioned that he had issues with immigrants who do not integrate - but perhaps he did not mean for them to incite violence alongside US-born citizens.
On her Facebook page where she also posted the video there was some angry reaction that she was inciting a riot. Her response was that she would take a riot to the door of those who threatened her.
Crowd tear-gassed as they surge at Police
The protest was still ongoing in the night, and the Police fired tear gas as the crowd rushed towards them. Mubaiwa reported that the "Police are waiting for some sh*t to happen out here in their riot gear." As more Police arrived they shouted to the crowd to raise their hands and stay where they were. At that point, Mubaiwa was telling people not to do anything and to just obey the Police, as they would cause a bad reaction. This was a big turnaround for a social report who started off her day telling those with weapons and an arsenal to all come on down.
The videos have been reported as inciting violence so they may not stay up for long, given that threatening to riot or start one, whether you're joking or not, is a felony.