Donald Trump catches up with Hillary in latest CNN opinion poll
With the election campaign in the last lap the latest poll gives a 2 point advantage to Trump over Hillary, proving he remains a formidable candidate.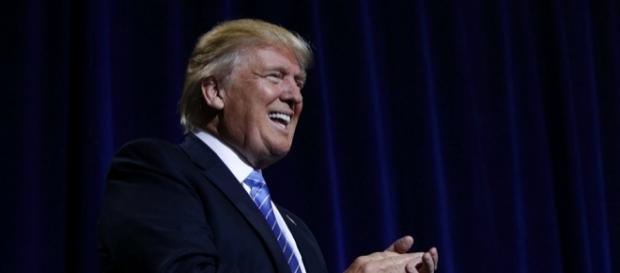 Just a few weeks back the press was reporting that #Donald Trump the Republican nominee was trailing by 8 percentage points behind Hillary and many were prepared to write him off. People forgot that Trump was appealing to a core constituency which was concerned about the economy and terrorism. Trump was forthright on both and also linked in acerbic comments on Muslims and Hispanic illegal immigrants. His constituency lapped up these statements and now Trump has bounced back.
Donald catches up
The latest opinion poll conducted by CNN puts Donald 2 points ahead of Clinton. Given the margin of error in such polls, one can safely conclude that Donald had caught up with Hillary. It means that the voter mood has swung nearly 10 points in his favor and that is no mean achievement.
True, there are many who feel Trump is unfit to be president. Yet there are many who swear by him and in case he loses there could be an upheaval.
What are the reasons for this bounce back by Donald? In case he goes on to win the presidency, it will be nothing short of a coup. In any case, it's a remarkable achievement to have come back into the reckoning, especially when many in his own party were not averse to opposing him or showing lukewarm support. Despite this he remains a formidable candidate.
Donald vs. Hillary
Donald has also been helped by the infirmities shown by Hillary and many in the electorate have serious doubts about her. Firstly, there is a doubt about her health, what with coughing episodes during her campaign, and the fact that she had fainted some time back as well. Her supporters will keep their fingers crossed that nothing happens in her 3 debates with Donald and she dosent have another coughing fit.
Secondly, many skeletons have tumbled out of her past, notably the email scandal and the Clinton Foundation. Even Bernie Sanders has called on her to dissociate with her charities. All these have sowed doubts in the minds of the voters, leaving them wondering whether it would be correct to vote for her.
Last word
A little more than 60 days are left for the election and the campaign. If Donald can maintain his upswing and do well in the debates, he looks to be home free. In case that happens it will be the greatest upset in US election history. #Election 2016